Bossier City, located in Louisiana in the United States, boasts countless activities for travelers. Although popular as being the first cotton-exporting river landing in Louisiana, Bossier City is now making waves for its tourism and casino gambling. Visiting this city allows you to enjoy different casino bars, wildlife areas, and even commercial boardwalk centers.
But aside from the wide variety of tourist destinations, are you aware that Bossier City also offers some of the world's best foods? Did you know that this city houses world-class and unique seafood restaurants? If you're planning to head to Bossier City soon, make sure to include the following foods in your itinerary:
Seafood And Steaks
Seafood is already a great dish on its own, but serving it with different types of steak can make the dish more exciting and flavorful. For your first trip to Bossier City, scout for restaurants that serve seafood and steak. DiamondJacks, for example, is popular for serving dishes that combine seafood and steaks. 
If you want to try out more dishes with this combination, you can also try steak scampi from other local restaurants. This dish contains a tenderloin steak topped with an imported jumbo shrimp and fried onion rings.
Atchafalaya
A lot of people want to try something new whenever they travel to new places. As much as possible, they want to taste cuisines and dishes that are not available in their locality. If you share the same sentiment, don't forget to try out the Atchafalaya in Bossier City, Louisiana. This dish is made using grilled fresh fish topped with crawfish etoufféee. Etoufféee is actually the method of cooking any type of seafood that involves simmering with other vegetables.
The etoufféee is available in most seafood restaurants in Bossier City at different times during the day. You can order this dish to-go and share it with your family for dinner.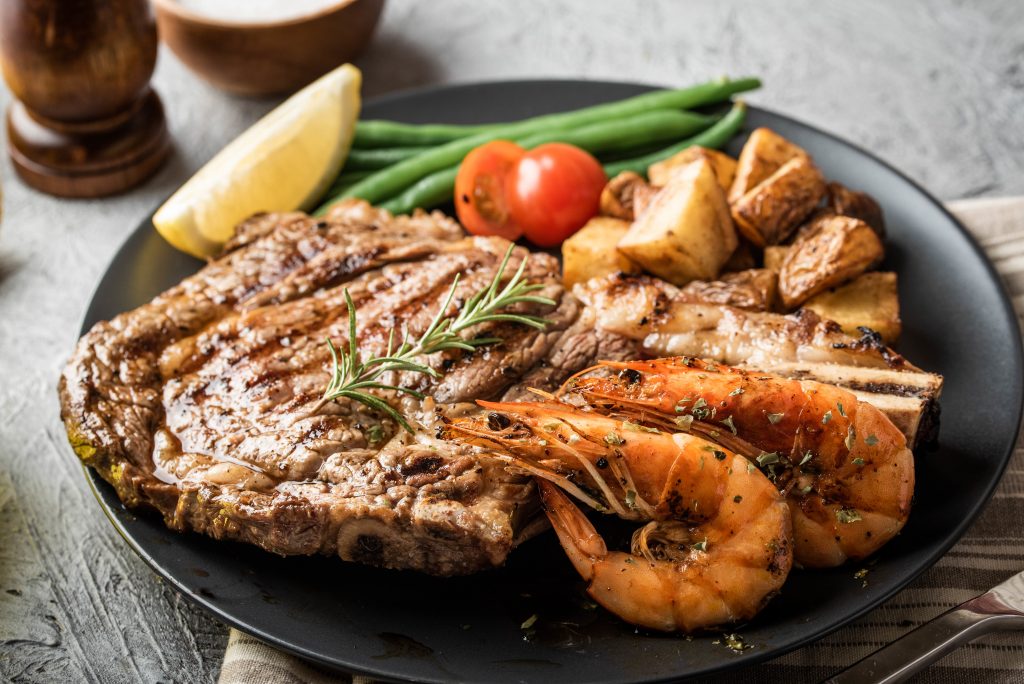 Crab Claws
Not everyone has access to a cook that can prepare meals that involve crabs. Aside from being a very limited resource nowadays, not all cities around the globe have access to this seafood. Fortunately, you won't have to worry about running out of dishes using crabs because Bossier City can promise plenty.
When you are touring around Bossier City, ordering the crab claws is an absolute must. This dish is one of the best appetizers you can order around the area. This dish primarily uses huge crab claws and is mixed with different spices such as green onions, celery, garlic, parsley, Spanish olive oil, and tarragon vinegar.
Shrimp Buster
If you want to eat like the locals when you're traveling around Bossier City, don't forget to order the Shrimp Buster. This is considered as one of the most iconic foods in the city that has jumbo shrimps pounded flat and then fried and stacked. This dish is served with buttery French bread, seafood gumbo, and gulf oysters on the side. If you're looking for a seafood dish that can satisfy your taste buds, this is surely a great option.
Shrimp Creole
As a seafood dish that originated in Louisiana, the shrimp creole is now being served in different restaurants around the city. This dish is a classic among locals that is made using cooked shrimp mixed with onions, celery, peppers, and other cayenne-based seasonings. Depending on your preferences, you can order this dish with mashed potatoes on the side or over boiled or steamed white rice.
If you want to take your seafood tasting experience up a notch, look for restaurants that serve shrimp creole with different levels of spice. You can choose to "spice up" the dish based on your preferences.
Seafood Platter
With the number of restaurants offering seafood dishes today, it's very common to find a seafood platter on the menu. But if you want a genuine seafood experience for your next trip to Bossier City, order the local's seafood platter. Unlike the seafood platter you usually order in your city or state, this one from Bossier City includes different kinds of shrimps, catfishes, and oysters. And the best part? You can usually taste all of this seafood goodness for only $20!
Being Prepared Is Key
Aside from knowing what destinations and activities to include in your itinerary, it's also important that you understand the language and currency of the locals in Bossier City. Although English is widely spoken in the city, be prepared to hear locals speak French and Spanish. It's also advisable that you skip renting cars so you can easily roam around the city