You just moved into your new house, apartment or condo, and you are looking for new furniture. Are you thinking of adding a bed in that extra room or wondering how to optimize the space in your small bedroom? You might want to consider buying a Murphy bed! 
You can find stylish North American made Murphy beds on the Bestar website. Bestar offers a variety of well-made Murphy beds in classic or modern designs. For a Murphy bed that is convenient, built to last, and complements your decor, choose a Bestar Murphy bed. 
If you are considering buying a Murphy bed or you are wondering what's so great about these beds, keep reading! We're going to show you how to make the most of your new Murphy bed and highlight the numerous reasons why it's an excellent buy. 
For its convenience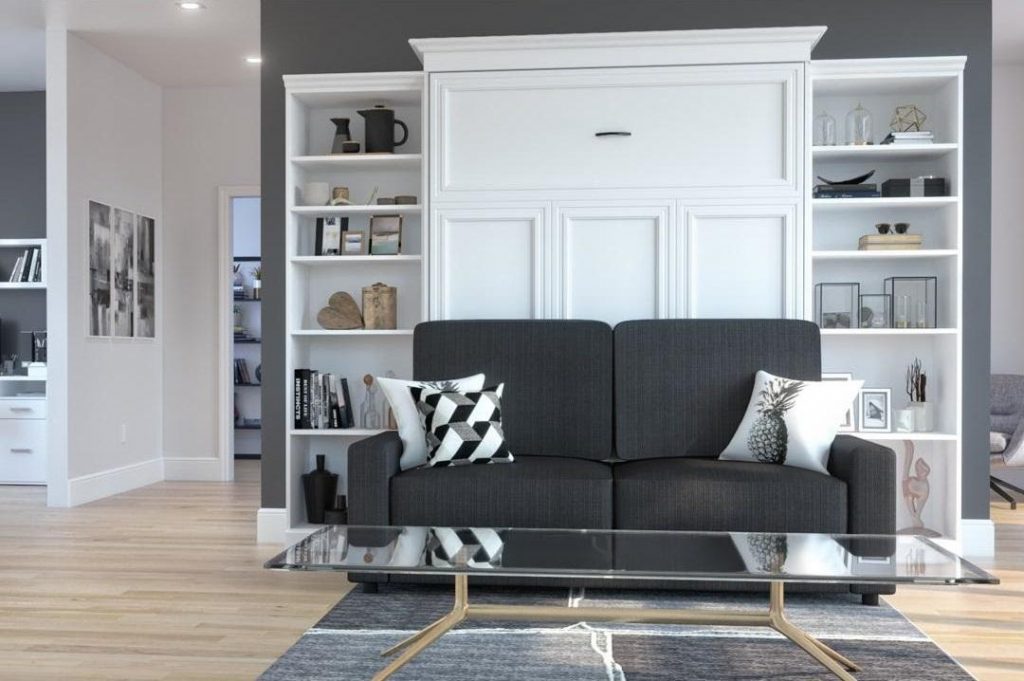 A Murphy bed is a great solution for a small space or a multipurpose room, but these convenient beds have more to offer. The new Murphy bed designs are highly functional. They can be placed in a bedroom, in a living room, or as an additional guest bed in a spacious house. You can also find different kinds of wall beds with additional features to suit your needs.
In a studio apartment, for example, a Murphy bed is definitely an interesting option. You obviously need a bed to sleep on, but beds take up a lot of space. In a studio apartment, where there is no designated bedroom, you might want to find a way to hide your bedroom space. You also probably want to optimize your living space. 
To address this issue, futons are sometimes used in studio apartments, but they are not really comfortable to sleep on, especially if you do so every night. You also need to fold and store your bedding every morning. A Murphy bed, on the other hand, can easily be slept on every night. And, as long as you remove the pillows, you can fold the bed up with the bedding in place. In addition, once the bed is folded up, you get a beautiful cabinet that hardly takes up any floor space. You can also buy a sofa Murphy bed or add storage units for even more convenience.
Thanks to the clever sofa Murphy beds, a Murphy bed can be placed in a living room. The Murphy bed sofas offer a comfortable seating solution with their thick cushions. And, you have a bed for overnight guests or movie nights! Simply pull on the handle and flip the support leg down onto the floor to fold out the bed. You can even choose a Murphy bed set with storage units to display books and decorative items. 
You could also install a Murphy bed in an area of unused space. If you live in a spacious house and you want to optimize your space, consider buying a Murphy bed! With your new Murphy bed, your unused space will now be occupied by a stylish cabinet. In addition, you now have an additional guest bed! Guest beds don't necessarily need to be in a guest bedroom. As long as they have a place to sleep, your overnight guests are going to be happy. Moreover, you offer them a comfortable bed and not just a sofa; your friends and family will surely feel welcome in your house.
To stay within your budget
Like many others, you might be living on a budget, and you want to respect it, which is indeed very responsible. You might think a Murphy bed is a little pricey for you, but, don't be too quick to dismiss the idea. A Murphy bed is in fact a good investment. It is definitely worth considering.
If you currently live in a small space, whether it's a small apartment or a small house, it's a really smart solution to maximize your space. A bed is already a pretty expensive piece of furniture, so why not opt for a bed that doesn't take up all your space! As mentioned earlier, you can sleep on a Murphy bed every night for a good night's sleep. 
The lifting mechanism on our wall beds makes it easy to fold the bed up and down, but that doesn't mean you need to use it every day. You can leave your bed folded down for as long as you want as if you had a regular bed. When you need more space to welcome guests, to exercise, or for any other activity, you can fold up your desk and free up your floor space in a heartbeat!
Since Bestar Murphy beds are solid, well made and built to last, you can rest assured that your new bed will last throughout the years. Thanks to their timeless designs, they blend into any room, and you will still love your Murphy bed years from now. Therefore, when you move into a more spacious home, your Murphy bed can become your guest bed. Who knows, maybe you'll buy another Murphy bed for your bedroom because you love these beds so much! 
Another interesting thing about wall beds is that you can add functionalities as time goes on. You can start with only a Murphy bed, then add a storage unit, and then another one if you wish. You can even add a comfortable sofa. In other words, you have the possibility to customize your Murphy bed over time, once you have more space and more money. 
To enhance your space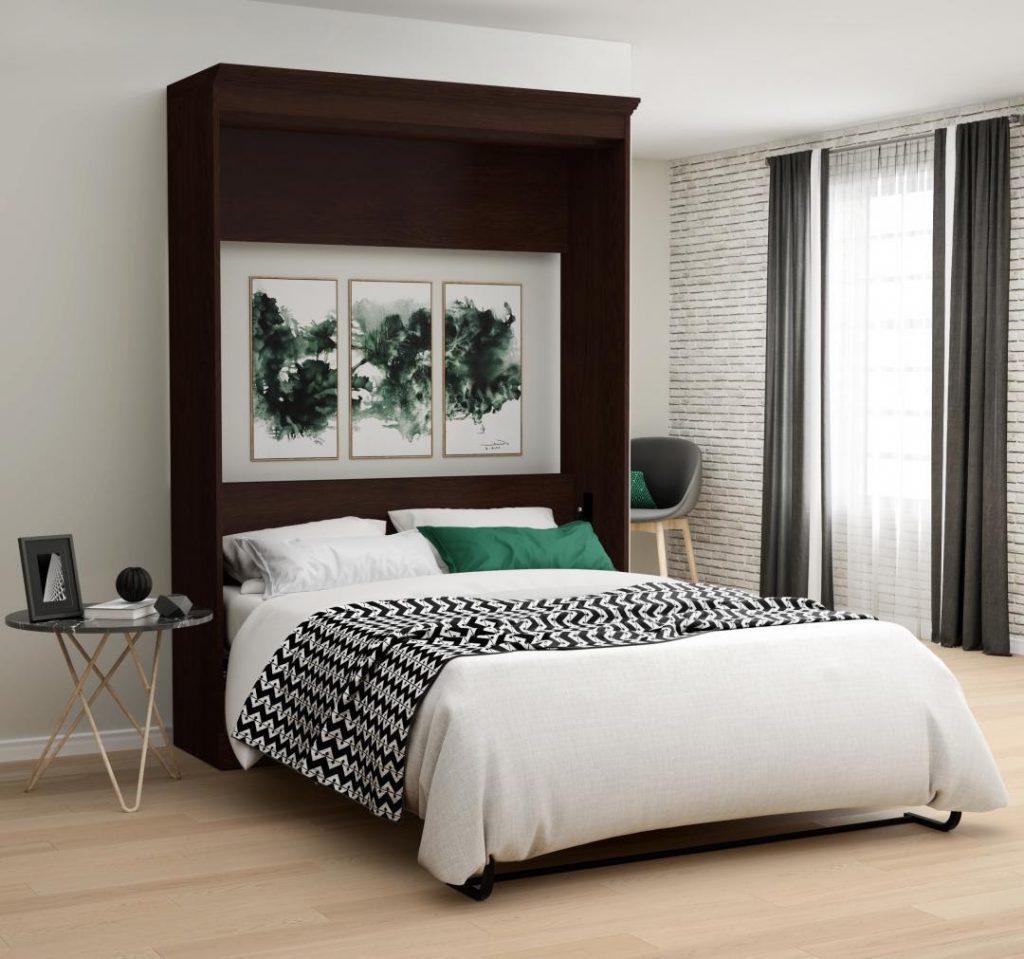 You should also consider that Murphy beds are stylish and elegant pieces of furniture, whether they are folded up or folded down. Adding a beautiful wall bed to any room could certainly enhance your space! Since Murphy beds are offered in a variety of colors and designs, choosing the perfect Murphy bed can be challenging. That's why it's important to keep your decor in mind while shopping for your new Murphy bed. 
To help you narrow down your choices, you can begin by choosing a style that suits you and your space. Some wall beds offer a more classic design with traditional finishes and attractive crown moldings. You can also find contemporary Murphy beds with two-tone finishes, clean lines, and trendy metal handles.
Once you've chosen your bed's style, you have to choose its color. Before you simply opt for your favorite color, consider your space once again. If your walls are painted in light colors, you might want to add contrast with a dark color. On the other hand, if your walls are painted in darker colors opt for a light color. And, if you have bright-colored walls, you might want to tone it down with a white Murphy bed.
You can also customize your Murphy bed! One way to do this is by adding a storage unit to display books and decorative items. An even simpler—yet original—way to customize it is to install paintings or wall decor inside your new Murphy bed to add decor elements once the bed is folded down.
To create a multipurpose room
Finally, a Murphy bed allows you to create a multipurpose room. If you have a spare room in your house or apartment, you might be debating on its use. With so many options, it's understandable! A guest bedroom is a popular choice, but losing a whole room only to accommodate overnight guests once in a while is disappointing. With a Murphy bed, you can have a guest bedroom and still make great use of your spare room.
Another very popular option for a spare room is a home office. With your new bed, you can easily create a home office space in your multipurpose room. One of the best desks for a home office is an L shaped desk. It offers plenty of space to spread out with your computer and paperwork. It is perfect if you have a spacious spare room. 
If you have a smaller spare room and you are wondering what to do with it, don't worry. There are plenty of options. You can choose a smaller Murphy bed and use the space as a home gym when there are no guests over, for example! You could also install a small desk and still create your home office space! 
Thanks to your new Murphy bed, your guest bedroom could double as a craft room, a game room, a reading nook, or anything else you want! Dream big, it's your home and you should enjoy every bit of it! Hopefully, you now know more about Murphy beds and will be able to choose the best Murphy bed for you.