Since the COVID-19 pandemic, there has been a surge in new accounts opened for short-term and day trading. This has reflected a number of socio-economic factors including:
individuals having more personal time during national lockdowns with more people working from home
the increased financial markets volatility (with greater potential for profits and losses)
The combination of these factors has led to new, individual retail traders opening trading accounts with brokers. If you a trading newbie, then what should you look for in a broker?
One of the key areas to look at is research. 
Research is one of a number of important factors 
These are numerous factors to consider when selecting a trading broker: 
What markets are on offer to trade?
The trading fees 
Education
Research
Trading Platform
Mobile Options
Trust
Customer Service
If you want more guidance on which is the best broker for trading in Canada, then check out the FX Explained Canada broker reviews. Here we are going to focus on one of the more important of these factors, research
Types of research
Fundamental research 
There are four main areas that make up fundamental research:
Macroeconomic Data Analysis – this involves looking at the big economic data that impact and national economy or economic region.
Central Bank Analysis – Central Banks have a significant impact on financial markets. Traders, investors, and analysts try to forecast changes in Central Bank views on future interest rates
Geopolitical Risk Analysis – Geopolitical events include wars and terrorism, weather and trade wars. They can be very difficult to predict but analyst attempt to understand 
geopolitical impacts and offer predictions
Microeconomic Analysis and Corporate Data – Microeconomic analysis looks at corporate data and financial statements to predict future price movements. Examples would be the Price-to-Earnings Ratio, earnings reports, revenue, and profit analysis, and debt-to-equity ratios.

Technical analysis
Technical analysis studies the effect of global news and events, not the cause of market movements. Technical analysts study the price action on charts and make future projections of the future price based on prior price activity.
Here is an example of a technical analysis report on the Canadian Dollar.
USDCAD rally keeps short-term risks higher
USDCAD update and view
A Thursday prod above 1.2620/25 resistances up to 1.2629, to build on this week's rally since Monday's dip and a rebound from above our initial 1.2457 support.
This leaves positive forces from the mid-March plunge and surges from a new cycle low at 1.2361, to keep the bias higher for Friday. 
Intermediate-term outlook
Downside risks: We see an intermediate-term bear trend to aim for 1.2250, 1.2061 and 1.1919.
What changes this? Above 1.2748 shifts the intermediate-term bear trend straight to an intermediate-term bull trend.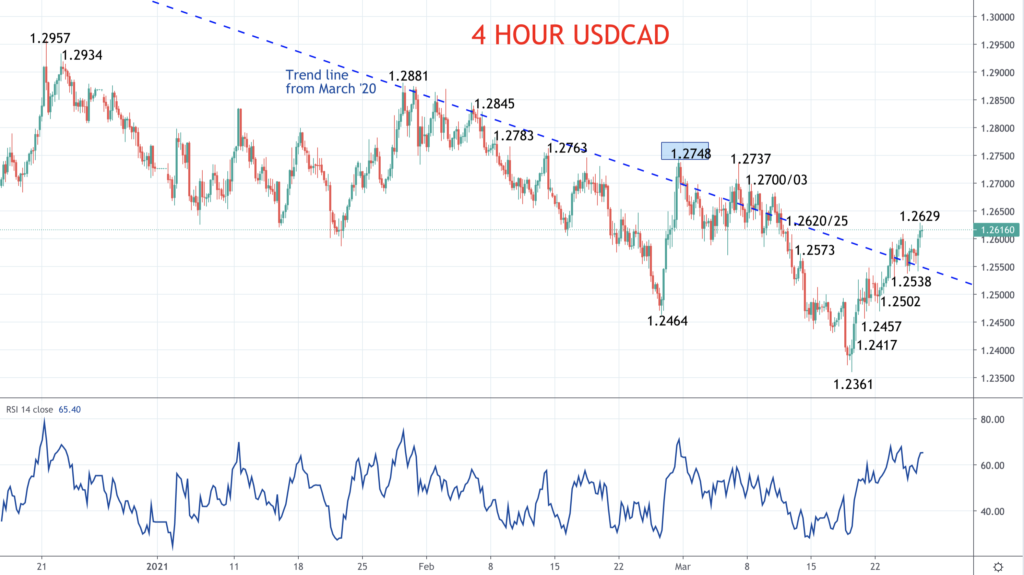 If you are a new day trader, picking a broker is a key step in your trading journey. By considering the above factors and in particular the research offering, you should be able to find a broker that is a fit for you.