DIY projects are fun and therapeutic. If you are a family man, DIY projects will also present a great opportunity to bond with your older kids. All you need to do is sharpen your D0-It-Yourself skills with some tutorials and make a long-term investment in the right tools. 
The good news is that most household fixes require just a few inexpensive tools. Below are some of the essential DIY equipment that every man needs in his toolbox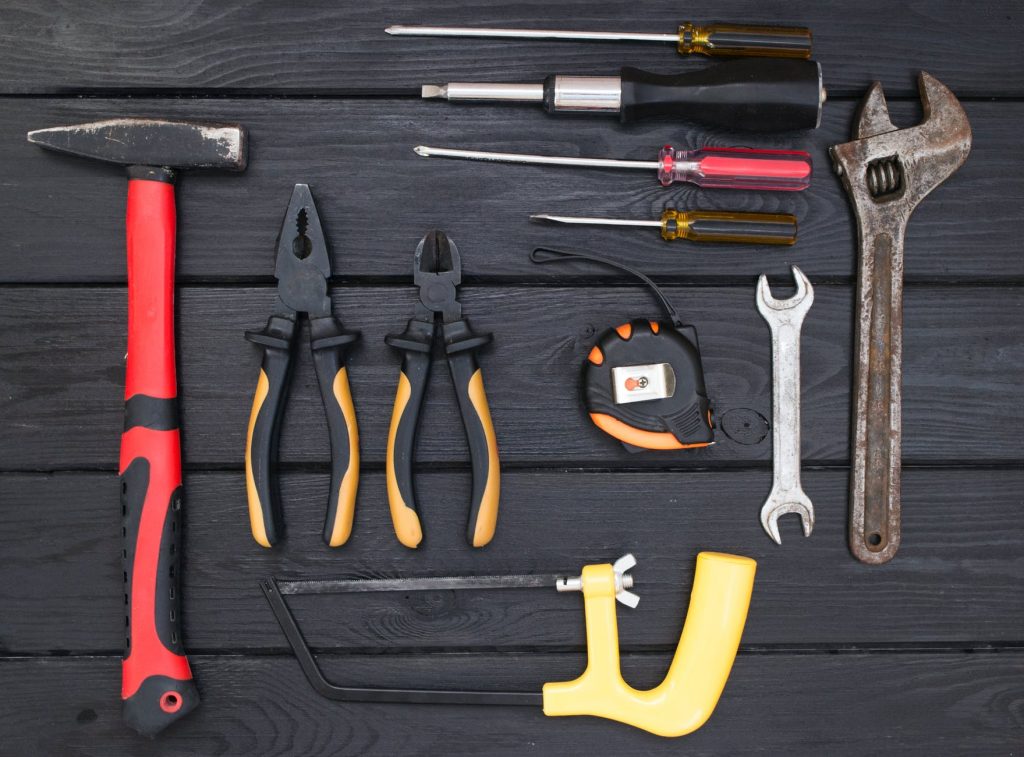 1. Hammer
A hammer is a must-have in any toolbox. It can be used to drive nails and for minor demolition tasks. 
Here is what to look at when shopping for a hammer:
A hammer can have a steel or titanium face. Steel is much cheaper yet every bit as effective as a titanium face.
Something else to look at here is the texture of the face. Some people prefer smooth faces since they don't cause a lot of damage if you miss the nail. Meanwhile, textured faces will probably leave a visible mark when you hit a surface. On the brighter side, these textured faces grab the nails much better.
A hammer's handle should be well designed to feel comfortable in your hands. It also needs a mechanism for absorbing shock to minimize the impact reaching your hands.
Fiberglass, steel, and wood are the most common materials used in handles. Fiberglass is lightweight, so it reduces fatigue. It's also great at absorbing shock.
Steel handles are more durable and deliver a more significant blow making them ideal for intensive projects. They are, however, heavier than fiberglass handles.
Wooden handles are an inexpensive option, but they are limited to lighter tasks. 
An excellent grip makes the hammer safer and more effective. Most hammers use a rubber material to enhance the grip. It makes the tool easier to handle and improves shock absorption.
Heavier hammers increase muscle fatigue and the risk of wrist injuries. On the other end of the spectrum, lighter hammers do not pack enough blow for most tasks.
Choose a hammer with the appropriate weight based on the strength of your hands.
Longer hammers deliver a more significant blow, but they can be harder to control.
2. Wrench
You'll need a wrench to tighten or exchange bolts and nuts. 
Adjustable wrenches come highly recommended due to how versatile they are. They allow you to work on nuts of different sizes with ease. This trims down your toolbox without making any compromises.
3. Screwdriver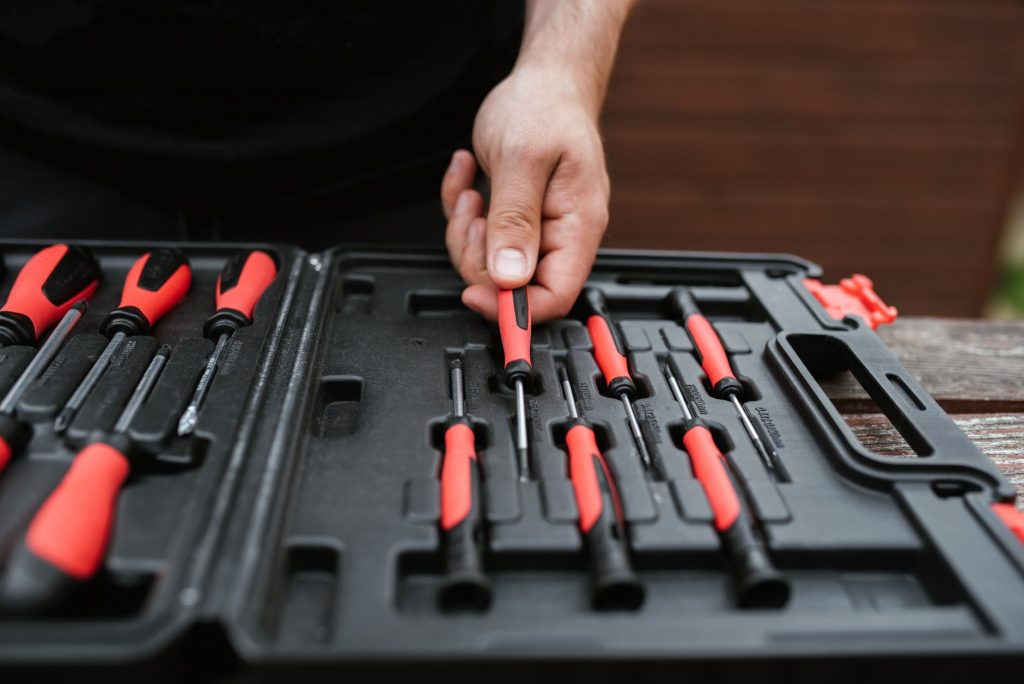 Screws are used in almost all pieces of furniture, and that's why your home must have a screwdriver. There are many types of screwdrivers out there, but the Philips head drivers are the most common. 
Depending on the type of screws used in your home, you may also want to consider other types of screwdrivers like the slotted/flat, hex key, and the Robertson drivers.
4. Chainsaw 
Chainsaws help clear the outdoors. For the regular homeowner, a small electric chainsaw is more than enough to trim branches and cut small trees in your yard. 
When purchasing a chainsaw, consider factors like the weight and size of the saw, engine size, and safety systems.
Keep in mind that the purpose of purchasing a saw may also determine which chainsaw is right for you. For instance, if you expect to cut massive hardwood logs, your tool must be equipped with the best hardwood chainsaw chain, a big engine, and a longer guide bar. This increases the saw's capacity to handle such an intensive project.
5. Tape Measure
The majority of DIY projects cannot be done without accurate measurements. Whether you are making a coffee table, mounting your brand new TV, or building cabinets, a tape measure makes sure you get the numbers right. 
Family men will also love the fact that there are special tape measures for kids. They'll make your children feel more involved during those family projects.
6. Pliers
Pliers are versatile tools that can be used for plumbing duties, tightening or loosening small nuts inaccessible to your wrench, fencing, etc. Depending on the pliers you purchase, you may also use them for electrical projects.
While there are many types of pliers to choose from, DIYers prefer combination pliers since they are meticulously designed to perform a wide variety of tasks in and out of the house.
7. Drill And Bits
Electric drills are used to make holes on the walls, cabinets, and other surfaces. They are useful in projects like cable management and woodworks.
The drilling bit can also be replaced with a screwdriver bit allowing you to drive screws with ease. Some of them come with a reversible feature which makes removing screws an effortless activity.
Cordless drills are ideal in a home setting. They are compact, easy to use, and have enough power for most of the basic tasks. But if you are the DIYer working on intensive projects, you'll find corded drills more effective.
These tools facilitate basic home repairments and improvements. They will enhance your DIY experience and save you lots of cash that would otherwise end up in a contractor's pocket.