YES Employment + Entrepreneurship is now accepting applications from local entrepreneurs for its 2022 ELLEvate Women Entrepreneurs Pre-Accelerator cohort.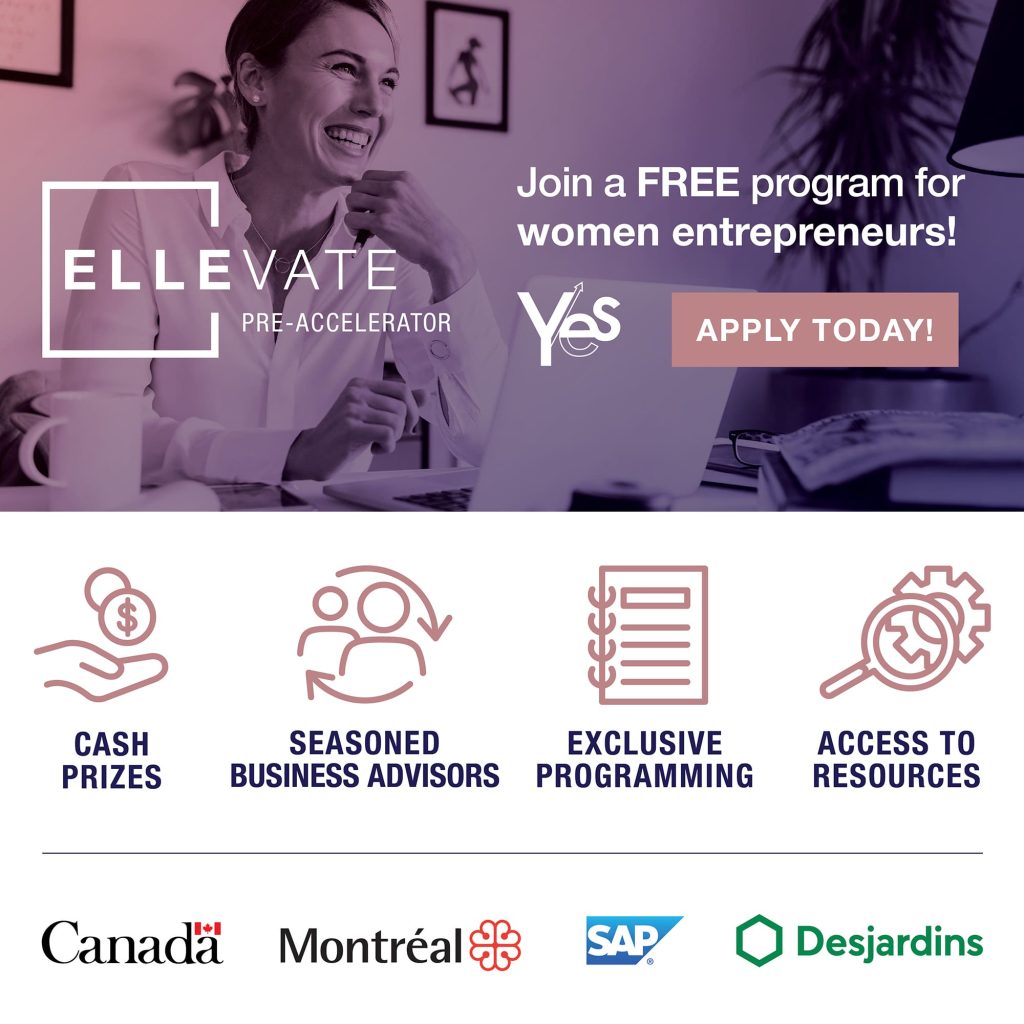 Tell us about YES Employment + Entrepreneurship and your program designed for women entrepreneurs
For over 25 years, YES Employment + Entrepreneurship has been delivering innovative programs, tools, and services to help English-speaking Quebecers build their careers in the province. As a non-profit organization, most of our services are available for free. 
In 2019, we launched a new program to support and assist high-potential women entrepreneurs in Quebec. The ELLEvate Women Entrepreneurs program focuses on creating and offering skill-building and networking opportunities for women entrepreneurs and provides actionable support to help more women participate in Quebec's entrepreneurial ecosystem.

Quebec remains one of the lowest-performing provinces in Canada in terms of women-owned enterprise growth. Barriers to entrepreneurship among women include lack of mentorship, low levels of participation in the entrepreneurship ecosystem (including accelerators), little exposure to other women entrepreneurs, and reduced access to support services and financing.
Through the ELLEvate Women Entrepreneurs program, our goal is to help over 1,000 women in Quebec launch and/or scale their businesses via workshops, mentorship, networking opportunities, and online platforms that provide access to entrepreneurial resources, tools, and best practices.
What is the ELLEvate Women Entrepreneurs Pre-Accelerator?
The ELLEvate Women Entrepreneurs Pre-Accelerator is a highly focused 10-week program targeted at high-potential women entrepreneurs that have a feasible idea or product. They begin as novice entrepreneurs and are equipped with a toolbelt of knowledge in marketing, human resources, growth mindset, financial planning, networking, and pitching their businesses.
The call for applications for the 2022 cohort is now open and the deadline to apply is February 18th >>> https://bit.ly/3rdvYf1 
The virtual program runs from April 5th to June 10th and will culminate with a pitch competition in early July where each participant will have the opportunity to pitch for more than $20,000 in awards.
The 10 women selected for the pre-accelerator will receive hands-on experience while benefiting from access to seasoned advisors, exclusive programming, community and peer networks, visibility, awards, and so much more. Throughout the program, participants will receive one-on-one business coaching and have access to free legal and accounting advice, courtesy of Dentons and Montreal Financial, as they prepare their business case and pitch.
Watch this video to see what previous participants had to say about their experiences in the program.
Who is eligible and how do they apply?
To be eligible, the entrepreneur must be a dedicated founder or co-founder who identifies as a woman (said founder must also be the main participant for the program). Their business must be at least 50% women-led and have a feasible, creative, scalable, and innovative process, product, or solution. 
We are seeking women who are driven, coachable, and collaborative. Participants must be Quebec residents, 18 years or older, able to commit for the duration of the program and participate in English.
Entrepreneurs interested in applying to the pre-accelerator can do so by visiting this web page. 

They can also attend free information sessions to learn more about the process:
– Thursday, Feb 10th / 6:00-7:00PM
– Monday, Feb 14th / 12:00-1:00PM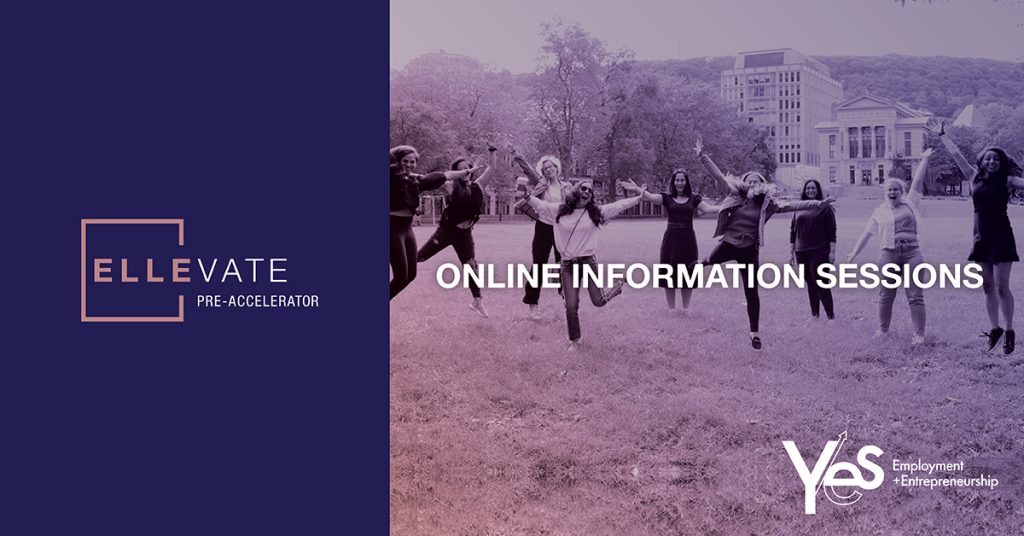 Why the focus on women?
Women-run businesses represent roughly 16% of Canadian small and medium-sized businesses. The Canadian government is committed to doubling that number by 2025 and YES is ready to help achieve that goal. There is a tremendous opportunity in engaging more women in entrepreneurship, creating a more diverse and sustainable economy. More equal participation by women in the economy has the potential to add up to $150 billion to Canada's GDP, creating more jobs and opportunities for all Canadians.
What is ELLEvate Women Entrepreneurs' formula for success?
Our pre-accelerator is open to early-stage businesses in all industries. The support delivered is holistic and the cohort itself is collaborative and supportive. Participants get incredible access to local experts and mentors, who share their first-hand experiences and best practices. Our business coaches ensure that each participant gets tailored advice for their business, and guide them in defining their WHY, incorporating their personality, and developing their core competencies as they bring their vision to life. Members of the cohort also benefit from access to expert legal and accounting advice, networking opportunities, and exposure to venture capitalists, seed capital, and collaborations with other entrepreneurs. 
Can you share some success stories from your past pre-accelerators?
Beaconsfield Chef and Founder of Buttery Foods, Taylor Pogue, who trained at the Cordon Blue in London walked away with top honors last year and $10,000 in funding. "The real win" she shared with us "was the program itself – the support, the after-hours calls, the access to established entrepreneurs. Getting access to that kind of network is really hard for new entrepreneurs – You can't set a price on a good network!" 
Another member of the cohort, Lemali Pathirana, took home $2,500 in awards. Pathirana was able to pivot from B2B to more B2C after getting expert advice from her business coach.
Although not a cash prize winner, past participant Kushboo Vaidya was able to attract the attention of a venture capitalist after completing the pre-accelerator.
You can read more about the winners in BaronMag here YES Employment + Entrepreneurship – Baron Mag
The ELLEvate program is building a sustainable community of women entrepreneurs in Quebec. By shining a light on the success stories and business philosophies of various Quebec-based entrepreneurs who play a pivotal part in the ELLEvate Women Entrepreneurs community, may they be clients, mentors and event speakers, YES hopes to inspire and uplift the next generation of women entrepreneurs. Watch our newly released ELLEvate Role Model video, featuring two Quebec-based speech-language pathologists and entrepreneurs, below:
How does ELLEvate continue to be relevant in Covid-19? 
ELLEvate has proved instrumental during the Covid-19 Pandemic. The programs and workshops that were in-person have pivoted online and are designed with the pandemic in mind to ensure participants' success during this trying time. The workshops have been tailored around the current situation and are relevant to any changes participants' industries are facing at this time. 
The bonus is that the ELLEvate program has been able to attract wider participation as the location is no longer a barrier. This has helped provide much-needed community and support to more clients during this unprecedented global crisis. Monthly workshops, called Ellevating Women Entrepreneurs, were included to promote group cohesion and share best practices.
In addition, we integrated a conflict resolution clinic to assist entrepreneurs with collaboration skills, foster communication skills, and turn conflicts into win-win outcomes.