Working remotely used to feel like a rare luxury for certain professions, but these days, it's become the norm for so many. Everyone from marketing managers to software engineers can work virtually with the right resources. Working from home has given many working professionals more freedom and flexibility in their careers, and this type of work environment shows no signs of slowing down.
If you've recently transitioned to a WFH environment, you may understandably be struggling to feel organized and in control of your new situation. The good news is that once you settle into your new home office and have the resources you need at your disposal, you'll see just how beneficial remote work can be.
We created this fun and helpful guide to help you adjust and thrive in your new WFH environment.
Step One: Create an Inviting Office Space
Your environment is often a direct indication of how productive you'll be and your overall mood. If your new home office feels uninspired or lifeless, how can you expect to find the enthusiasm and motivation to put your best professional foot forward?
This calls for a home office makeover — and the good news is that it doesn't have to break the bank. First, you'll need a comfortable desk chair that you can sit in for long periods of time without any muscle pain or stiffness. This may be your biggest splurge, but your body will thank you in the long run. Next, go to your nearest home goods or even craft store and pick out some colorful desk accessories, whether you need pens and staplers, file folders, or an endless supply of sticky notes. Choose some photographs or pictures to hand on surrounding walls that will inspire you to work hard.
Step Two: Invest in Quality Internet
Since you're working from home permanently — or semi-permanently — quality internet connections are going to be your new best friend. Your internet connection will determine how effectively you're able to complete the tasks at hand, no matter what field you're in. We recommend high-speed internet from companies like Eyesurf with unlimited data, so you never have to stress over data overages.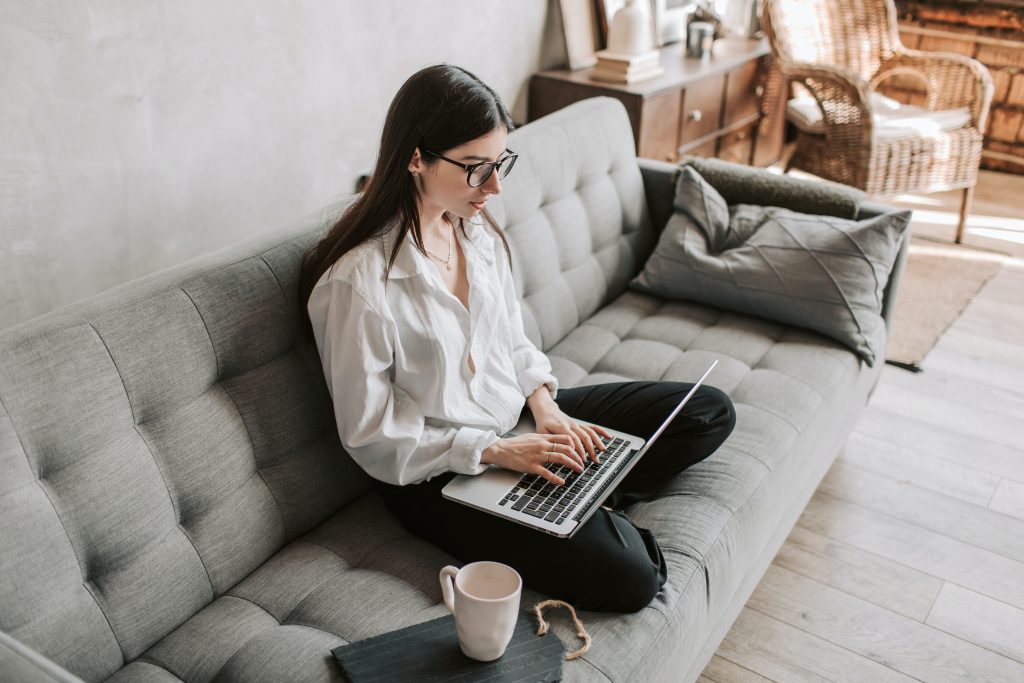 Credit: Vlada Karpovich via Pexels
Step Three: Always Feel Comfortable
One of the best parts about working from home is that you no longer have to invest in expensive professional wardrobes. While you may have video conferences and calls, you can avoid wearing uncomfortable shoes or feeling stuffy in a suit. Instead, put your money towards comfortable basics like linen collared shirts or soft cardigans that still give off the professional aesthetic you need without feeling restricted or uncomfortable.
Step Four: Change Up Your Environment
While your home office is likely going to be your main base during the week, there's something to be said about switching up work environments — like a local coffee shop, for instance. Working from home can sometimes be an isolating experience, so why not shake off those feelings by immersing yourself around others in your neighbourhoo