When families move into a new home, they often devote a lot of time and thought to how it will look from the inside. Couples think about what zones are needed, how to fit everything they need in the house, what colors and materials to choose for interior design, and much more. A little later, many begin to think about how to make the appearance of the house and the entire site attractive. 
The appearance of your home and yard are equally important factors that you need to consider. When designing the perfect interior, you are not only doing it so that you enjoy looking at your family hearth or so that the neighbors think well of you, but you are also doing it so that you are comfortable not only inside the house but also outside. 
When thinking about the exterior, you need to think about the cladding of the house, the gate, the parking space for the family car, the garden area, and more. Even things like the design of the driveway play a big role. Luckily, for this kind of work, you can take advantage of the Interlocking Services in Ottawa and leave it to the professionals. If you think through every aspect in detail, you will enjoy the chosen design for many years to come, instead of constantly changing, fixing, or redoing something. 
Upgrade your home 
Walking through your neighborhood, you will notice houses that look charming, as well as dwellings whose exterior leaves much to be desired. Achieving a great exterior can be quite tricky as you need to think through the design concept so that all the elements of the exterior design look like they belong together. 
This is not always affected by the amount of money you are willing to spend on design materials. Even with inexpensive materials, you can make a sweetie out of the space you own. Sometimes even an expensive exterior can look ugly or vulgar if the overall design concept leaves much to be desired. 
Necessary items for the exterior 
The whole look of your garden 
This is the place where you can go gardening or planting luxurious flowers and bushes. Here you can have parties with friends and relatives, in a place equipped for this with a table, a grill, and even a swimming pool. 
Depending on what you want to do you can make zones out of your outdoor space so that you have areas for gardening, sun loungers, places to gather with friends, and a playground. At the same time, you should consider where to place these zones, so that you can lay all the necessary communications. 
You should also think about developing a design concept in such a way that you can observe all the beauty of your garden from home. In the room that will face your garden, you can install floor-to-ceiling windows so that even while sitting in the room you can enjoy the view. 
Car parking place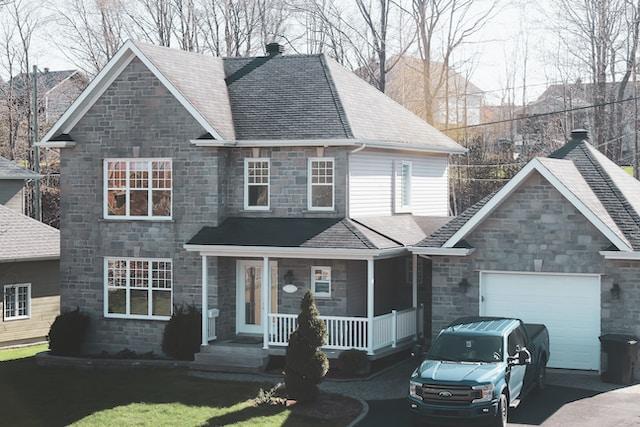 If you're the lucky one who has a car parking space built into your home, you should also consider how to make the space blend in nicely with the front of the building. Without a built-in garage, you might want to consider making a shed that will perfectly complement the entire backyard design of your home. 
Gate and fence of the house 
It's much nicer when your house is surrounded by a fence. You do not need to worry that someone will spy on you and that everything that happens in your yard will be paraded to all people passing by. How your gate and fence will look will also affect the facade of your building. They can make a good first impression on those who pass by your house and those who come to visit you. 
If you want to have the highest level of security, you can install a gate with an intercom so that you can see who wants to contact you when you are at home. Pick up the fence and gate, so that they would ideally match in color or, conversely, contrast with the facade of the building. 
Landscaping 
It is not always convenient when there are no plants and especially trees in your residential area. Trees can help create shade in your yard so that during heatwaves, you can take shelter in the shade and spend your free time in your yard. You should consider planting evergreen trees that are green and vibrant all year round. 
To make eye-catching accents in your yard, you can set up flower beds and plant beautiful flowers or shrubs. Your home will look fabulous surrounded by bright flowers, bushes, and trees. 
Conclusion 
When building your family nest, you should think about how the exterior will look like. To do this, you should think over the design concept so that every detail looks harmonious. In particular, you should think about landscaping, a place to park your vehicle, a fence and a gate, and a garden.