For thousands of years, people have been actively using various animals as transport – horses, bulls, deer, donkeys, dogs, and other mammals were among those who served humans for that purpose. With the emergence of the automotive industry, the love for animals hasn't gone away at all otherwise car manufacturers would not have tried to perpetuate their image in their cars in a variety of ways.
In fact, sometimes car manufacturers borrowed from the animal world not only characters for their logos and names for new models, but also some conceptual ideas for engineering purposes. Fish, birds, and animals, whose life goes on in constant motion, have a characteristic streamlined body shape with a smoothly tapering back.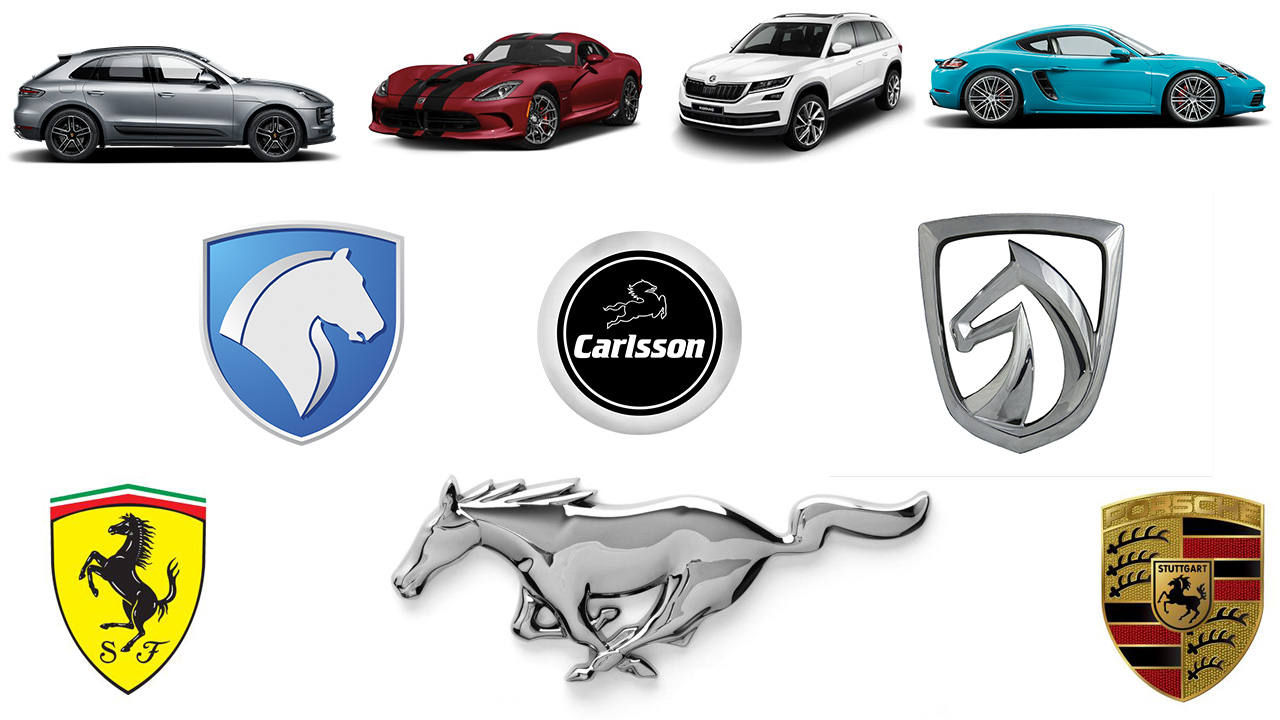 As a sign of special appreciation, global automakers most often use horses in their logos. Horses can be seen on Ferrari, Porsche, Ford Mustang cars, as well as on some models of less known manufacturers such as Iran Khodro, Carllsson, Eigher, Baojun, Pegaso, Corre La Licorne.
Logos of the world's leading brands depict a vast variety of animals. We will list only a part of car manufacturers who are not indifferent to the fauna: proud griffin birds are immortalized on the Scania and Saab company logos, lion is the animal of French Peugeot, snake may be seen on Alfa Romeos, bull is an integral part of Lamborghini, ram decorates Dodges, and jaguar is depicted on the logo of the same name brand cars. Less known brands depict wolves, dogs, eagles, lizards, scorpions and so on. The birds are there too and it is not a rare thing at all to see a car logo with wings. Wings decorate the logos of Aston Martin, Bentley, MINI, Chrysler, Genesis, Mazda.
As for the names of the cars, wildlife comes to the rescue once again. In this regard, predators is the most popular option: famous English manufacturer Jaguar borrowed its name from a wild cat, Porsche Cayman sports car took it from alligator, Porsche Macan – from a tiger (this is how they call it in Indonesia), Dodge Viper – from a viper, Skoda Kodiaq – from a bear (Alaskan brown bear).
Herbivorous creatures are also in use: Ford Mustang is named after wild horses, Volkswagen Beetle is named after bugs, FIAT Panda – after a bamboo teddy bear, Chevrolet Impala – after an antelope, Lamborghini Urus – after a wild bull. There are many other variations in the automotive industry on the animal world theme.
Of course, all people have their own associations, but sometimes it is easy to come to a common opinion about similarities between specific animals and car models. For example, Volkswagen Beetle really looks like a bug -, especially in its older versions. Besides, many of us will agree that singe E65 generation models, BMW 7 Series sedans have a lot in common with a shark in terms of their look.