Are you a vegan? If so, today's your lucky day because I am going to share with you 5 quick recipes of delicious vegan meals you can make at home for breakfast. Making some of these meals is as easy as ordering the right ingredients from your meal delivery service, throwing the ingredients into your blender and blending for a few minutes.  
It is my hope that this guide will help you learn how to prepare a blueberry smoothie and hummus toast, quick steel-cut oatmeal, all-in yogurt bowls, tofu scramble deluxe and raisin with cardamom overnight oats. It's now time to get the ingredients from your meal delivery service and put the culinary knowledge you have acquired into practice today. Interesting list of reliable resources can be found here. As long as you have the right ingredients, you can prepare any of these vegan meals in under 15 minutes. 
1. Blueberry Smoothie and Hummus Toast
Blueberry smoothie and hummus toast is a good source of Vitamins B, C, E, K, and essential minerals such as magnesium, phosphorus, manganese, and riboflavin. Apart from that, it's rich in proteins and carbohydrates,  the body's primary source of energy and the building blocks of life, respectively. Below is a recipe of this meal, which can be prepared in under 10 minutes:
What You Will Need
A powerful blender.
A  bowl large enough to accommodate all your ingredients.
The right number of plates.
A scoop.
A butter knife.
2. Ingredients for the Smoothie per 2-Servings Meal 
0.5 cup frozen blueberries.
Walnut halves(a handful).
2 bananas.
4 cubes of frozen chopped spinach.
Oat milk( quantity will depend on your preferred consistency).
3. Ingredients for the Toast per 2-Servings Meal
Pickled red onions(a handful).
Slices of bread(enough for 2 servings).
Green leaf lettuce.
Humus(enough for 2 servings).
Directions
Blend all your smoothie ingredients until smooth and then transfer to the bowl. Make some open-faced sandwiches with the smoothie alongside the bread slices and enjoy.
4. Quick Steel Cut Oatmeal
Quick steel-cut oatmeal is one of the healthiest vegan breakfasts you can make at home in less than 15 minutes. This meal is rich in antioxidants, B vitamins, carbohydrates, calcium, potassium, fiber, iron, and magnesium, which are all essential for our health. Here is a recipe showing how to make this meal at home.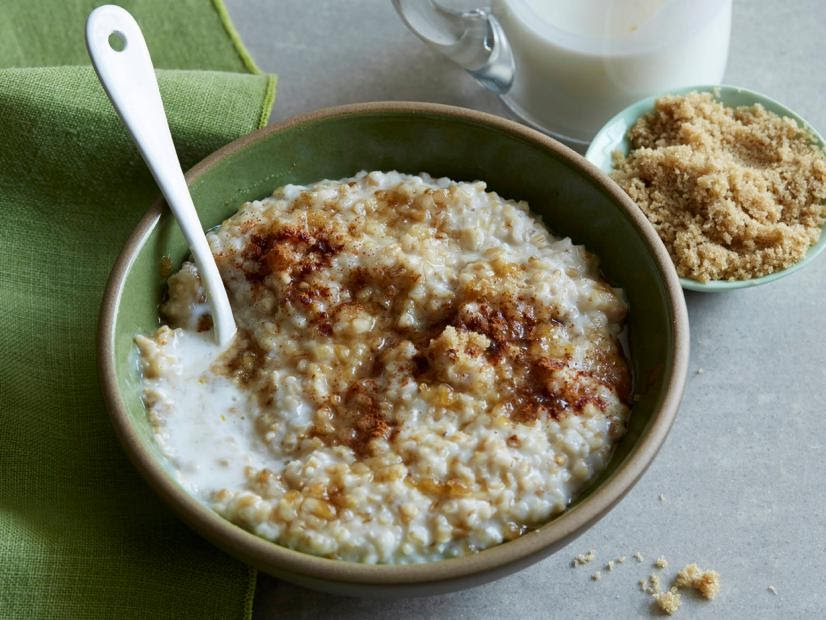 Source: Foodnetwork.com
What You Will Need
A fine-mesh strainer.
A small pot.
A stirring spoon.
The right number of serving plates.
A heating source.
Ingredients for a 2 to 3 servings meal:
0.25 cup oat milk(You may use other plant milk if oat milk isn't available).
1 cup of water.
1 cup steel-cut oats( oats must have been soaked overnight in 2 cups water).
For topping purposes: hemp seeds, pear slices, cinnamon, peanut butter, pumpkin seeds, and berries all in the right quantities for 2-3 servings. 
Directions
After draining,  rinse your steel-cut oats in the mesh strainer and place them in the pot.
Pour the water into the pot and start boiling the ingredients until the water has been absorbed(should take between 10-15 minutes). Don't forget to stir the pot occasionally.
Add oat milk after the water is absorbed and let it simmer while stirring often until the milk is absorbed(this should take no more than 5  minutes).
Place on the plates and top with your topping ingredients.
5. All-In Yogurt Bowls
This is a rich source of healthy bacteria that provide the body with a myriad of health benefits, including boosting the immunity system. Apart from that, this vegan breakfast meal supplies the body with a variety of nutrients that contribute to our well-being including Vitamins B, C, not to mention calcium, manganese, and other minerals. Plus, it's a rich source of proteins and carbohydrates. Here is a simple recipe of it:
What You Will Need
2 yogurt bowls.
2 yogurt spoons.
An airtight jar(optional)
Ingredients per 2-Servings Meal
Two handfuls of oat flakes or rolled oats.
A full apple, chopped into pieces.
Two handfuls of berries.
2 cups of oat yogurt or any other plant yogurt of your choice.
A sprinkling of pumpkin seeds, raisins, alongside walnut pieces.
Two tablespoons of applesauce(unsweetened).
Directions
Pour yogurt into each bowl. Next, add applesauce to each bowl. After that, top the yogurts with chopped apple, berries, pumpkin seeds, raisins, walnut pieces, and oat flakes. Place the spoons, one in each bowl and enjoy your vegan breakfast with your partner.
6. Tofu Scramble Deluxe
Tofu Scramble will enrich your body with carbohydrates, proteins, and fiber, which are all essential for your health and well-being. Here is a quick recipe for this mouth-watering vegan meal for breakfast:
What You Will Need 
A large frying pan.
A saucepan lid.
A heating source.
2 plates. 
A stirring spoon.
A serving spoon.
Ingredients per 2-Servings Meal
100 grams sliced chestnut mushrooms.
1-1.5 large stems of kale(destemmed & roughly chopped).
1 tablespoon nutritional yeast.
1 minced garlic clove.
150 grams plain firm or marinated tofu.
0.25 tablespoon turmeric(ground).
O.5 brown onion(chopped).
Black pepper, turmeric, and salt to taste.
0.5-cup water or rapeseed oil 
Meal Can Be Served With:
Fermented carrots.
Toast with hummus.
Pickled red onion.
Directions
Poor rapeseed oil or water into the frying pan. Next, add and saute the onions until softened. After that,  add your garlic and saute for a minute or so. Then add your sliced mushrooms and continue to saute until tender(that should take about 5 minutes). Now transfer your tofu into the pan, then sprinkle with salt, turmeric, alongside black pepper and mix well before adding your kale and covering the pan. Steam for about 4 to 5 minutes. Serve with toast, pickled red onion as well as fermented carrots and enjoy!
7. Raisin with Cardamom Over Night Oats
Raising with cardamom night oats contains rich amounts of fiber, proteins, and Calcium, which are all good for our health. Apart from that, it offers some small quantities of carbohydrates, which can help contribute energy to your body. Here is a recipe for preparing this delicious vegan breakfast meal.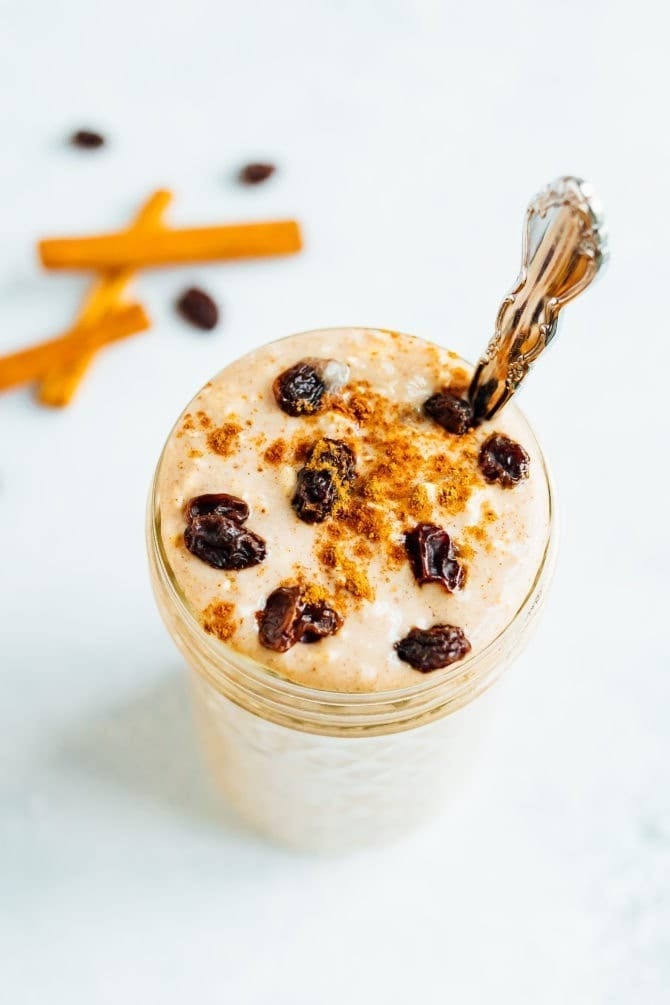 Source: Eatingbirdfood.com
What You Will Need 
1 large ingredient container or 2 ingredient jars.
A stirring spoon.
Ingredients for a 2-Servings Meal
0.5 tablespoon cinnamon or cardamom.
1.25 cup oat milk or any other plant milk of your preference.
1 cup rolled oats.
A handful of raisins.
2 tablespoons milled flax seeds.
Topping ingredients; berries, crunchy peanut butter, and sliced pear. 
Directions
Mix all the ingredients in the container or divide them equally between the two suitable jars. Then stir well and leave in the fridge overnight. Take your meal out in the morning and serve before topping them with the topping ingredients above.