Vintage T-shirts, Australian craft beer, or artisan bread, many iconic brands first started out as market stalls and pop-ups. Setting up a stall is an amazing way to expand your brand and get your business off to a great start. 
Market Stall Success 
Markets grant flexibility and help you reach out to a huge demographic in one day's work, and you get instant feedback. There are a number of tips and tricks you can use to ensure your market stall is a resounding success–from knowing your demographic to ensuring the stall has a multilevel display and a handy marquee, allowing it to really stand out. 
If you follow these tricks of the trade, you'll be selling your products in no time: 
Know Your Market 
Selling the right product is essential for a well-managed market stall. Also, you need to consider the type of crowds that'll be at the market. For instance, it's no use selling pottery at a fruit and veg market. 
You'll also need to have a large variety of the product you're choosing to sell. Art, for example, will need to be in different colours, different sizes, and have different price ranges in order to attract the most custom. 
Have some flagship items to showcase so you can really grab attention. You can also provide some free samples or gifts to passers-by so they can have a taste of what your business has to offer. 
Be welcoming 
It goes without saying, but a smile can go a long way. Running a stall on a busy market day can be stressful but it can also be fun as you get to talk to all sorts of interesting people.
If you've picked the correct market for your product, you're likely to get heaps of questions and interest. Greet everyone warmly and openly so they'll be more likely to look at your wares and linger a little longer because of the effort you've made. 
Don't be too pushy and allow wiggle room when it comes to pricing so you can barter with those savvy bargain hunters. 
Offer alternate payment options 
You also need to consider payment options, especially since very few people carry cash in Australia nowadays. So, it might pay to invest in an EFTPOS terminal. 
It may seem like an expensive luxury, but it can pay off when a customer has limited cash with them, and they really want to buy that pricey artisan rug you're selling. 
Customers are more inclined to splash out on pricier items if they have the option of using their credit or debit card rather than spending the limited cash in their pockets. 
Your set up 
Most sellers are vying to get the best spots at every Australian market in order to get more foot traffic and more customers. Thus, the setup of any market stall is vital
You may have similar products as another stall, and perhaps yours are a little pricier, so you want customers to see your stall first and buy the products from you first. 
Positioning is important and can affect the success of your stall. Hence, it's best to go to the site as early as possible to secure the best space. As they say, the early bird catches the worm.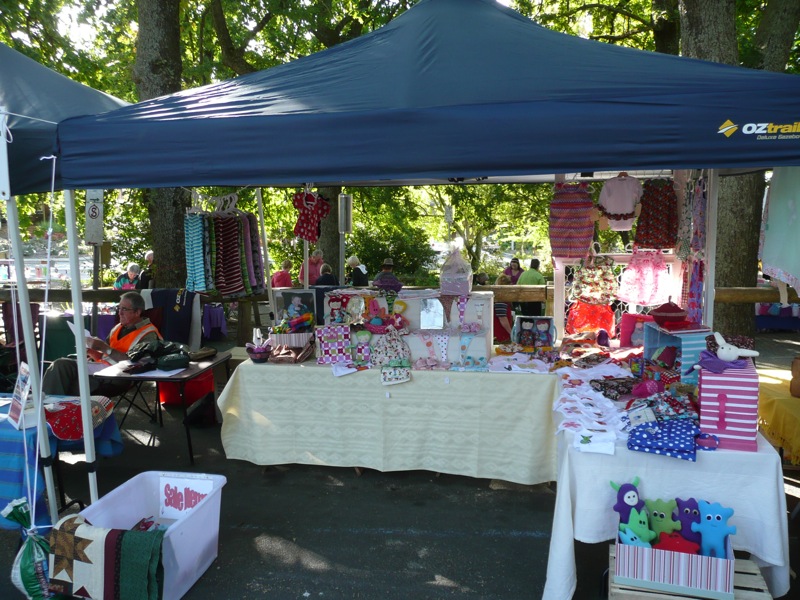 How to make the most of a marquee 
You also want to be sheltered to keep out of the rain or strong sun. This way, people can have a good look at what you're selling without having to shield their eyes. 
A great way to do this is by purchasing an easy to use folding marquee. By having one, you can set up your stall quickly, allowing you to make the most of your time to sell. Choosing the best folding marquee for your stall means knowing what you need in terms of size. 
Do you just need to protect your wares from the weather or do you want your customers to stand under it while they browse? Generally, you should be able to set up your marquee in 60 seconds, and closing it should be just as easy–no hassle and no fuss. 
Use your marquee as a marketing tool 
Marquees are an ideal marketing tool as it's an eye-catching way of advertising your brand and will attract attention. Most marquees can be designed with your branding so you can really make the most of the setup. 
As a tip, include your website details so that consumers know where they can contact you to buy more of your products or to find out where your next stall will be. 
Put pictures of your busy stall on social media to attract more buyers to the market. It can help you develop a fanbase and build a following for your brand. 
Use multilevel displays 
Since people buy with their eyes, your stall needs to be visually satisfying. If you have products laid out in no specific order, shoppers will take one look and walk away. Thus, organisation is the key to success. 
You need the display to look full but in a way that a customer can see everything easily without having to sift through stuff. 
Layering works well, but just make sure you have plenty of extra stock on hand for those busy market days. There's nothing worse than looking at a half-empty display. 
Emptying your supply is great for business but customers will be less inclined to look if you have run out of products to exhibit. 
You're nearly ready to sell 
Now that you've got your products and foldable marquee, what's next? 
Many Australian market vendors find that most days on-site run smoother with a little bit of help. You need to decide if you can run the stall on your own or if you need someone else to engage with the foot traffic while you help a customer with sizes. 
Once you've considered staffing, you're all set! It's time to get your ideas out there and start selling!