Stainless steel restaurant carts on wheels is a well-known device that is used for delivering dishes directly to the consumer, collecting dishes, storing trays, drying washed dishes, and other purposes. The purpose of each individual model is determined by its design. The food trolley, which is convenient to use in restaurants or hotels usually has at least two tiers, which allows the customer to deliver a complete set for a meal, including not only dishes, but also drinks, cutlery, and other utensils.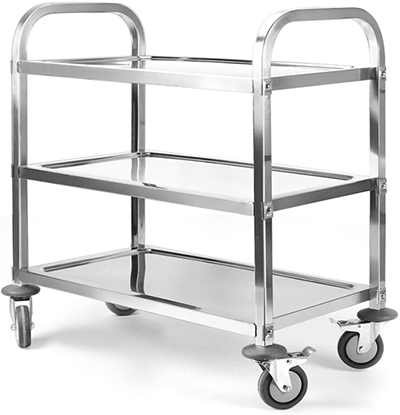 A large number of items can fit here, and the risk of accidentally leveling or turning the contents is significantly reduced. The main types of stainless steel restaurant carts are:
serving — used by waiters to deliver drinks and dishes of the kitchen to the halls of restaurants and cafes, to collect used dishes;
industrial — used for the transportation of goods with large dimensions, capable of withstanding up to 400 kg, equipped with a stainless steel platform, wheels with a diameter of 200 mm and a removable handle;
for drying dishes of various capacities (105-210 plates) with trays for moisture;
for collecting food waste;
for transporting and storing dishes or trays in cassettes.
There are two-level and three-level stainless steel work carts. In addition, restaurant carts can be made specifically for transporting gastronorm containers, dishes, baking trays from the kitchen to the serving line and vice versa.
Types of stainless steel restaurant carts  
Stainless steel utility carts with wheels are indispensable professional devices for catering and hotels, where the staff delivers various dishes and drinks directly to the guests' rooms. They speed up service and help maximize efficiency and profitability in the restaurant business. Thanks to them, one waiter at a time can deliver several orders, quickly collect dirty dishes from several tables and prepare them for the arrival of new customers. 
It will not be superfluous to purchase these restaurants equipment for serving visitors on a portable catering platform — a terrace or to another banquet hall, where there are more than 100 m from the kitchen of a restaurant or bar to the location of tables. In elite cafes and restaurants, these devices perform another function — a demonstration. They are used as a stage for showing a culinary show:
burning meat sprinkled with alcohol;
making desserts;
tastings of cheeses, fruits, or wine;
serving cocktails or cake for the anniversary.
Two-tier stainless steel work carts are equipped with a comfortable handle and two shelves, which are covered with high-temperature powder polymer paint. They can withstand loads weighing 200-550 kg. The load on the top shelf must not exceed 100 kg. Some models have brakes.
Industrial three-deck stainless steel utility carts with wheels provide the ability to transport many small items at the same time. They are especially in demand in the restaurant and hotel business, in workshops, warehouses, and exhibitions. These devices are made of 
stainless steel — a material that is unmatched in strength, durability, and functionality.