If you are an avid camper or hiker, you must have felt the need to sip on a cold drink or beer on extremely hot days. However, having access to chilled drinks outside is difficult unless you find a gas station nearby or carry certain items that keep your drinks cool. You cannot always rely on a mini-refrigerator outdoors, especially in remote areas where you have zero access to electricity. Moreover, since most mini-fridges are heavy, you cannot carry them on your camping trip. Whether you are hosting a barbeque alongside the lake or wandering deep into the forests to reach the end of a trail, certain items will provide cold beer to quench your thirst. Here are 4 of these items you need to keep your beer and other drinks chilled outdoors.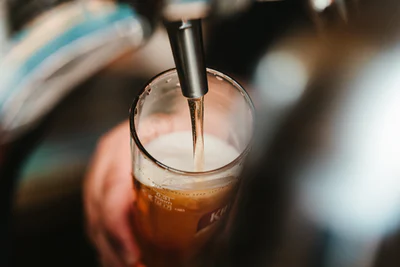 1. An Ice Box
The most convenient way to chill drinks outdoors is to store them in an icebox. All you need is an icebox to store 8 to 10 cans along with some ice to get chilled beer all day. Be careful when buying one as not all models are efficient enough to keep your drinks cool for more than 4 to 5 hours. Consider certain factors like size, insulation, and cost. Before putting in the ice, let the icebox reach room temperature to cool the air inside. Place it in a cool and dry spot before adding the ice cubes.
Modern products resembling ice boxes are commonly known as beverage dispensers as they are designed to dispense drinks on the go. A small tap is attached at the bottom of the box to dispense cold drinks or beer straight into the drinking containers. Swap crushed ice with block ice as it lasts longer.
2. A Damp Cloth or Paper Towel
The simplest way to chill a drink is to wrap a damp cloth around the bottle or can and put it in the freezer for 15 to 20 minutes. However, this trick works only for a short while. If you are simply relaxing in your garden or reading a book by the lake, this technique can keep your beer cold for 2 to 3 hours. Since cloths and paper towels can be easily found at home, you don't need to spend extra money.
You can also wrap your beer can with a wet paper towel and shove it in the freezer a few hours before heading out. The frozen paper towel will create an insulation layer on the can's surface and keep it cool for at least 2 hours. Since the water content in the damp cloth and paper towel will evaporate inside the freezer due to extreme dryness, the towel speeds up the cooling process. Pack the beer bottles with the towel or cloth wrapped around them to keep them cool on the go.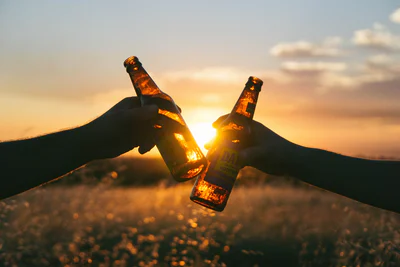 3. A Cooler Backpack
A cooler backpack is a portable device that keeps your drinks cool on the go. You have to carry it around just like a normal backpack and keep your hands free, thereby making it convenient for hiking activities. When buying one, consider some factors like weight, insulation level, size, price, and comfort.
Certain versions come with additional features like a burly base and a bottle opener. Some models like these are ideal for people engaging in intense activities like rock climbing and hiking atop steep trails. Some cooler backpacks can keep your drinks cool for up to 48 hours due to added insulation and a leak-proof build. Since portable cooler backpacks are specifically designed for outdoor use, they should easily be sturdy and able to resist harsh weather conditions like punctures and mildew.
4. An Insulation Blanket
Another inexpensive item to keep your beer cool is an insulation blanket, which works for up to 10 hours. It is available in different sizes and is suitable for every kind of outdoor activity. From covering large barrels to wrapping just one beer can, an insulation blanket is a cheap and easy way to drink cold beer outside. You can also pour cold beer into an insulated water bottle and keep it chilled for a few hours. Research your options and order one from an online store.
The next time you hit the road with your friends or explore the wilderness when camping, carry one of these four items to have access to a cold beer at all times. Do not let the warm weather and rising temperature restrict you from traveling and performing your favorite outdoor activities. Since these items are inexpensive and portable, invest in one of these to avoid running out of cold drinks outdoors. Over time, they will turn into an essential part of your outdoor experiences.