You don't have to look for a serious reason to change the look of your walls. An interior that has stayed the same for years can grow boring, but just a few simple changes can freshen up any room. And this needn't be costly and time-consuming – when major renovations aren't an option, consider sprucing up your home with new wall decor.
Whether you're moving into a new home, changing rental places, or just looking for easy ways to refresh your dorm room, custom wall decor is the right choice. We've compiled three of the easiest and most affordable wall decor options that will help you to update your interior without breaking the bank.
1) Poster Prints
If you're taking just the first steps in wall decorating, you'll probably want to start with something simple and not too expensive. Start with poster prints – it's a wall art classic that's been updated for contemporary tastes and demands. These days poster prints are made from high-quality photo paper that is pretty resistant to daily wear and tear. Your poster prints will remain in impeccable condition even after years of hanging above your bed – and you'll even be able to take your dorm wall decor to your first real home!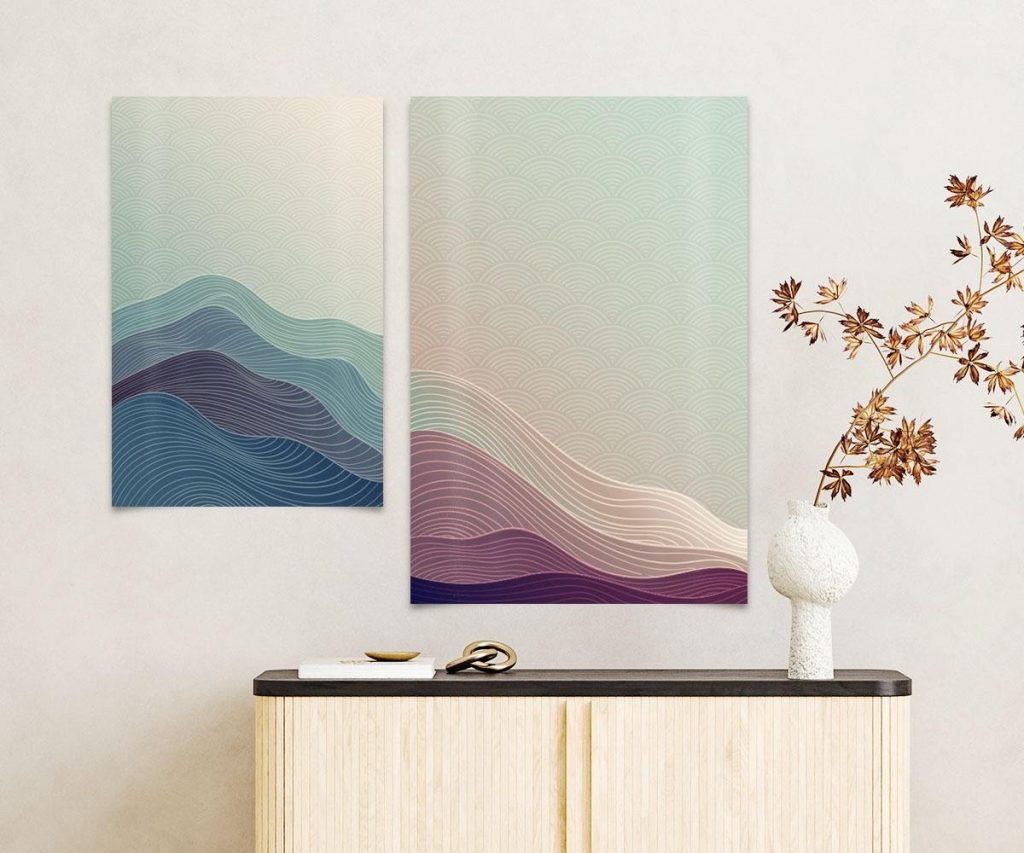 2) Canvas Prints
If you're aiming for a chic and timeless look, decorate your home with canvas prints. Unlike printed photos – a child of modernity and technological progress – canvas prints are based on classic canvas paintings. Canvas fabric used for printing is (almost) the same as the material used by artists in the long-gone centuries.
Another great thing about canvas prints is that their unique nature lets you display those prints in more than one way. Most canvas prints available on the market come pre-stretched over inner frame, and you can either hang them on the wall or simply lean against any vertical surface. This isn't something you can repeat with paper-flat posters and framed photos – canvas prints allow for much more creative freedom and let you experiment with various decoration schemes.
3) Eclectic Gallery Walls
Want to feel like being inside that gallery when you walk inside your room? How about covering a whole wall with photos and other precious knickknacks? With a bit of planning and some lucky finds, you can design a one-of-a-kind wall art composition that will forever change the character of the room. While this design solution may not be ideal for short-term rentals and ultrasmall apartments, a gallery wall should be the perfect choice for family houses and other spacious dwellings.
In a gallery wall you can combine large posters with miniature canvas prints, mix classic framed photos with a collection of vintage postcards, and balance the look with some classic-looking framed photos. A unifying topic that runs through every wall element will ensure a coherent look – the most failsafe gallery wall themes are travels, family events and homeowners' hobbies.
Final Words
Proper wall decor doesn't simply hide awkward bare space – it tells a story and showcases your personality. And once you start decorating with custom prints, you might never want to stop, so it's a good idea to find a reliable printing provider that offers many different print types. One of the most beloved custom printing companies in Canada is BestCanvas.ca – explore their webshop and discover amazing photo products available at very competitive prices.
Meta Description: – 
Looking for fresh & cheap ways to revamp your interior? We have outlined 3 fantastic tips for creating stunning wall art compositions. Check them out!