6th Anniversary and Home Delivery!!—In response to the crisis in our health care system due to COVID cases, we made the decision to postpone our in-person anniversary party this weekend. Instead, we are opening up home delivery for delivery on Friday, October 1st. Head here to place an order for delivery. Orders will be taken until 5 pm on Wednesday, October 1st. While we would have absolutely loved to have hosted you all in our home, we hope you'll have a blast drinking some rad beers in your home.
Homebrewing & Industry 2021: 52 craft beer recipes from brewers
52 recipes from brewers in Canada, the U.S.A., France, the U.K., Spain, Switzerland, and Iceland. Taken from our 3 latest issues in French (Recettes de Bières et Industrie). The artwork cover is from Marc-André Filion from Messorem Bracitorium Brewery in Montréal. We have also interviewed 16 breweries and associations (from Canada, the U.S.A., and Ireland) about their challenges in 2021.
Sneak peek at some fun ones—And if you place an order for home delivery (https://blindmanbrewing.square.site/)  you'll get first dibs on a few fun ones. First off is our 6th Anniversary Oaked Belgian Strong. This is our 6th take on a boozy Belgian…the proper way to celebrate any birthday. This time around we brewed with Gull Lake Honey Company's honey and aged in French and American Oak barrels. Then, we've got our Wet & Dry Hop Double IPA. Fresh hops from Hop To It's hopyard were added into the brew 8 hours from harvesting and then it was double dry-hopped to complete this delicious double IPA. This one comes in nice and fresh and in a bright new fluorescent can. As well, you can grab your favs and maybe a couple of our recent releases like our Five Mile Rustic Saison, which was brewed with ingredients within a 5 mile radius in Central Alberta including 24-2 Draft Horses malt and Hop To It hops. You also might spot Harriet on the label, as we are the first brewery around to transfer a video to a label and what better way to showcase that technology than to feature a beautiful dog in her element playing in the streams of Central Alberta. Check out the video here.
New mural—One thing that we were really excited about showing off to you all at our anniversary party is our beautiful new mural courtesy of the always great AJA Louden and Clay Lowe. We gave them a wide canvas to work with (our building!) and they knocked it out of the park as they always do. Titled "The Alchemy of Flavour" it is a beautiful addition to Lacombe—the Mural Capital of Alberta, if you didn't catch that. Come on by over the next few months for a pint and take a gander, you can't miss it. We hope to see you soon.
Thanks for reading, everyone, -Kirk Zembal, co-founder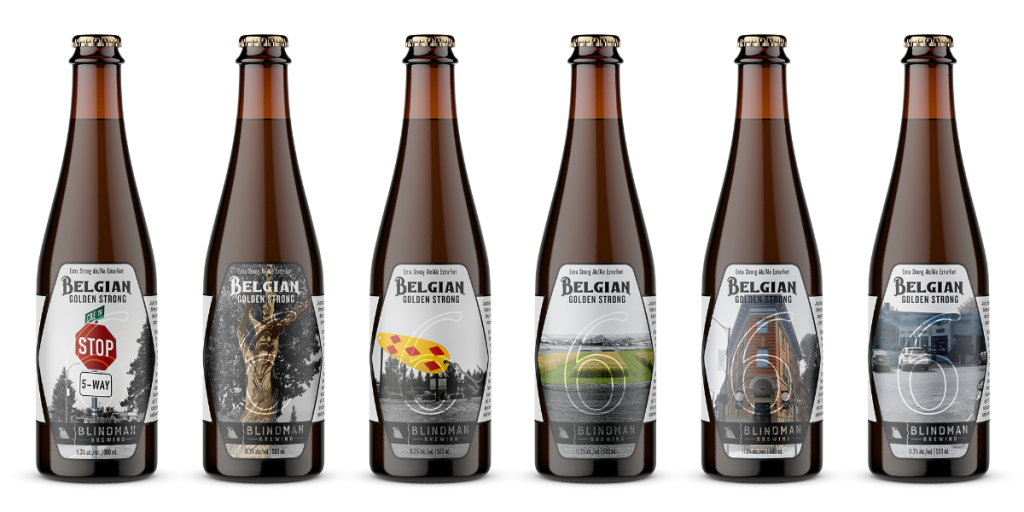 ---
In the cellar tanks:
FV1: Blindman River Session Ale
FV2: Empty
FV3: Longshadows IPA
FV4: New England Pale Ale
FV5: Five of Diamonds Pilsner
FV6: Five of Diamonds Pilsner
FV7: Empty
FV8: Five of Diamonds Pilsner
FV9: Cherries and Raspberries Sour
FV10: Empty
FV11: Empty
FV12: Marzen
FV13: Empty
FV13: Longshadows IPA
FV13: Blindman River Session Ale
Foeder Jean: Jean Turn 4
Foeder Pierre: Empty
Foeder Woody Barrelson: California Common
---
Upcoming Events: head on over to blindmanbrewing.com to see what's going on. Or please follow Instagram & Twitter @blindmanbrewery and /blindmanbrewing on Facebook.