Master Brewers Webinar
CDR BeerLab®: an Easy-to-Use Device for the real-time monitoring of your beer making process
Join us for an educational sponsor webinar presented by Simone Bellassai, Division Manager of CDR Foodlab®. Simone will give a short presentation about the quality control systems company before diving into the technical information on improving brewing process through use of the CDR BeerLab® system. This webinar will include case studies and a practical demonstration of the product, showing how the analyses that can be run with it help to ensure beer quality.
Date: October14, 2021
Time: 12:00 pm CENTRAL
Presenter:
Simone Bellassai 
CDR FoodLab
Yeast Propagation Best Practices
Join us for a webinar that will explore brewery yeast handling. Yeast has large influence on beer flavor but is often overlooked in the brewing process. Some very simple techniques and procedures can help to improve yeast handling in the brewery and, ultimately, beer quality. This webinar will explore the following:
Sourcing Brewing Yeast
Culture Collection Storage
Yeast Propagation
Brewery Yeast Handling and Fermentation
The session will conclude with a question and answers.
Broadcast Date: November 16, 2021
Time: 12:00 Noon CENTRAL
Presenter: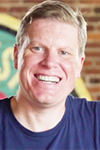 Florian Kuplent
Chestnut Brewing Co.