Myriam Dimanche is the founder of The Fatshionista and the winner of the cohort award of the ELLEvate Women Entrepreneurs Pre-Accelerator pitch competition led by YES Employment +Entrepreneurship. 
Please present yourself – name, professional title and company name:
My name is Myriam Dimanche and I liberate women. But if you wanna get more technical, I'm also founder and CEO of The Fatshionista.
Where are you based (city/town)?
I'm currently based in Montreal.
Congratulations on your recognition in the 2021 ELLEvate Women Entrepreneurs Pre-Accelerator Pitch Competition. What does this cohort award mean to you?
Winning the Cohort Prize has special meaning for me because the winner was selected by my fellow boss ladies themselves. I later found out that of the 10 votes placed, 9 were nominations for me. That's amazing! I feel incredibly blessed to have spent ten weeks learning and growing alongside these amazing women over the summer. It truly was with a spirit of collaboration rather than competition that we worked together, and I'm so thankful to have met each fabulous woman.
What do you think sets the ELLEvate pre-accelerator apart from other programs available to entrepreneurs in Quebec?
As an anglophone in Quebec, what I appreciated most was that the program takes place entirely in English. Living in a province where I'm not only a double visible minority as a Black woman but also belong to the minority language group, it's been challenging for me to access this kind of high-caliber entrepreneurship program in my primary language.
What was the highlight, for you, of the Pre-Accelerator Program?
One of my favorite aspects of the program was getting the opportunity to workshop the business of a fellow cohort member right there in the session, live, and in real-time. Perhaps what I appreciated most, however, was that because the program was held virtually via video conference, it allowed me the flexibility that I think most entrepreneurs need in terms of logistics. Some of the participants are also busy moms who are not just running a new business but also running a family and household. I still work a day job so remote access, for me, was a crucial component in deciding whether or not to apply. I hope YES continues to offer this program with the option to participate remotely. I don't know that I would have even considered applying if I knew I had to be tied to a location away from my home office, regardless of the current constraints resulting from the ongoing pandemic.
What was it like to be in a program that was focused on and consisted solely of women entrepreneurs?
Being surrounded by fellow queens was exactly what I was hoping it would be: it was a royal experience. And we were all there for one another, ready to fix the other's crown lest it should fall. I'm actually having a hard time describing just how transformational and powerful it was. We were each basically dropped into this environment where you immediately and automatically feel at home, with a ready-built entourage who's got your back no matter what. I suspect this kind of instant camaraderie and support would not have been borne so spontaneously, nor so fiercely and loyally, had the cohort been co-ed. I guess the best way to describe it is as though we formed a lion's pride. Each of us was at once a lioness and a cub, protecting one another and yet each of us striving to 'hunt' for our respective businesses. When one of us was successful, then we all were, and we celebrated those wins and one another.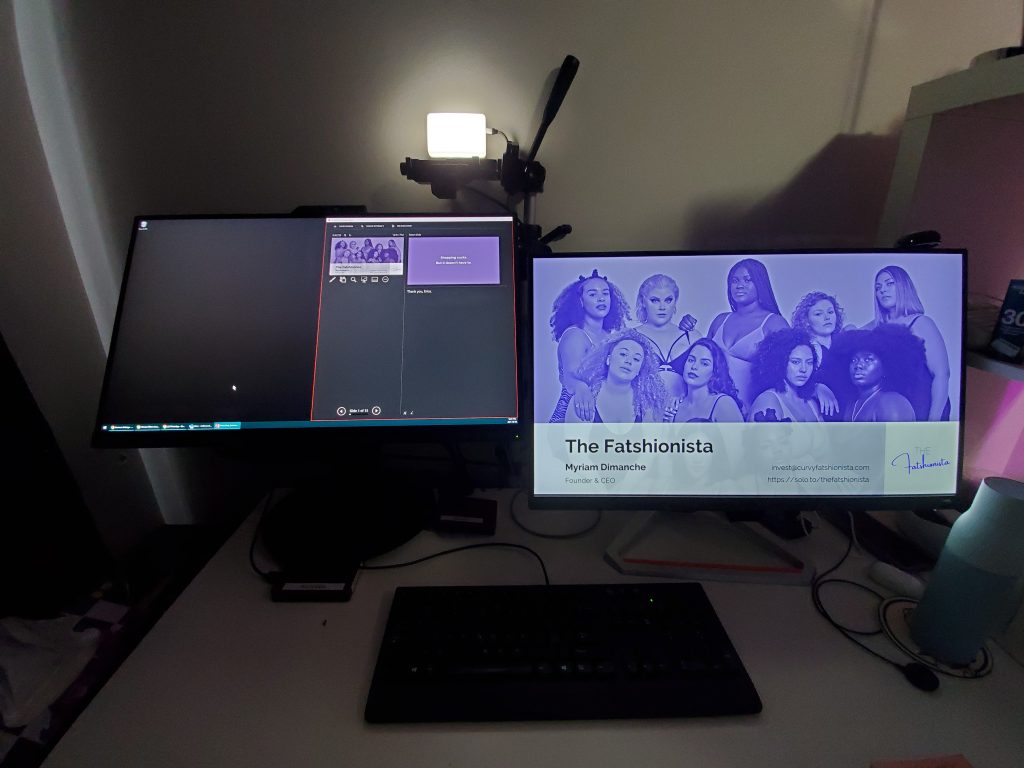 Tell us about your company:
I believe — actually, I know in my gut — that The Fatshionista is going to be more than a company and it's going to be more than a platform. It's going to be a movement. We're reclaiming the word "fat" and removing the negative connotations that weigh it down. We're also allowing fat women to take control of their narrative and form a community where they can be themselves without judgment, in a zone free of fat-shaming and size discrimination. That's basically "who" the company is, and here's the "what": The Fatshionista is a marketplace where curvy women can save time, money, and aggravation by shopping one another's closets online, giving these women access to second-hand fashions that are affordable, stylish, and actually fit properly.
What makes your business concept unique?
There are 3 principal elements we're focusing on right now to solve the issues of access, affordability, and fit for curvy women: (1) we're bringing billions of articles of plus-sized clothing just sitting idle in people's closets together under one roof by building a marketplace, (2) making sure the clothing is affordable because it's high-quality and second-hand rather than brand new, and (3) adding several sizing details that help cut the guessing game and increase chances of the garment fitting properly despite never having tried it on.
Perhaps the best part, though, is building that platform with a community aspect, where these women can share their experiences, their tips and recommendations, and support one another — whether they're just beginning their journey of body acceptance, or have been proclaiming body positivity for years.
How big is your company?
We're in the very early stages of the company's development, between ideation and validation, really. Right now, the executive team is comprised solely of me, but I'm looking for the right technical person to bring on as a co-founder as we are fast approaching our first prototype.
Have there been any business support tools and resources you've leaned on to navigate through the covid-19 pandemic?
I've been rather fortunate to work and operate in spaces relatively insulated from the financial hardships brought upon by the COVID-19 pandemic — by day I'm a Project Coordinator for the Artificial Intelligence Initiative of a prominent institution of higher education located in downtown Montreal.
Nevertheless, since March of 2020, I've made great use of business support tools such as video conferencing apps, productivity tools, and social media platforms. To some degree or another, each of these tools has allowed me to remain connected to everyone I collaborate with, and each has enabled me in many instances to deepen existing relationships and draw closer despite the physical distance in between.
What inspires and motivates you to work on your concept every day?
I became an entrepreneur with the launch of my first company 15 years ago. Returning to this realm once again, I think it's still the same motivation that drives my entrepreneurship: a desire to help others. Even if my second company The Fatshionista does not ultimately succeed, it won't stop me from finding ways to innovate and help others. I like to think one of my gifts is identifying and solving problems customers did not even realize they had. So for as long as I draw breath, that's what I will continue to do. Every day.
What tools are essential for your professional life (app, software)?
I'm a huge techie, so I could talk ad nauseam about this particular topic. But if I had to mention only a few, I'd have to say:
Loom, it's a fabulous, free tool for recording instructional videos whether you need to record a demo on the fly or prepare a polished presentation to be delivered for viewing asynchronously (available for PC, Mac, and as a Chrome browser plugin).
Microsoft Outlook (the desktop client app, not the version you access from an Internet browser), I use the desktop client rather than check my email in browsers because that's the beauty of Outlook — it becomes more than just a way to check your email. Whether or not you use the whole suite of Microsoft 365 apps, Outlook is definitely worth the expense because you can use it to track not just emails, but dates/deadlines, tasks, and deliverables. Even being the power user I consider myself to be, I'm sure I'm still just scratching the surface of this app's potential. It grants users far more finesse when it comes to managing emails, tracking conversations, and when deployed across an entire organization with the rest of the Microsoft 365 suite — I mean, it's even more amazing! This app has been part of my technology SOP for decades and I've yet to come across anything that comes close — plus it's available for PC and Mac computers.
What does your workspace look like?
Like I mentioned earlier — I'm a big tech nerd, obsessed even! So my primary machine has two 27-inch widescreen HD monitors tied to a PC I customized with 16GB of RAM and more than 8 terabytes of storage (that's over 8,000 gigabytes). At any given time, my computers always run the latest Windows operating system and as robust a CPU and graphics card as I can afford. If you saw me pitch at the 2021 ELLEvate Demo Day and wondered what webcam I was using for that clear and crisp image, it was the Logitech BRIO 4K Ultra HD (I clipped it with this to mount on an AmazonBasics tripod, which I placed behind my monitors, as you see pictured). For lighting, I used the Aputure AL-MC which comes with a silicone light diffuser.
Of course, what helps (besides all my devices being fast) is that I selected an Internet service provider that's fast too. In my current neighborhood, the supplier with the best prices is Fizz and they offer 200Mbps download, 30Mbps upload (unlimited usage, for only $75/month) — so with all the video conferencing and streaming I do (I'm subscribed to Apple TV+, Crave, Disney+, Netflix, Prime, and more), I virtually never experience lag or see that dreaded circle telling me the video feed is buffering, because when I shop for Internet service: I mean business!
How do you organize your days to optimize your workflow?
I'm the kind of person who doesn't mind getting derailed with spontaneous requests or even pivoting for a while when my own inspiration takes hold. My workflow is intentionally flexible to allow for those moments of creativity that don't come with a set schedule. But that means setting myself priorities for the day. I like to keep a running tally of tasks I need to do. Sometimes I write them down, sometimes I just keep the list in my head. But the more important or critical that item is, the more likely I am to write it down to make sure I don't forget it. I'm super organized by nature, so I intuitively triage my email inbox, file non-action items away into sub-folders if I need to hold on to the info, and flag critical items or leave them as unread in my inbox so that I remember to go back to them. My inbox for work never has more than a handful of emails in it, because the first thing I do when I sit down at my desk is:
Check what emails came in while I was outside of office hours, and what is old but I've left as "unread" because it still requires some sort of action on my part. I skim through everything "unread" and triage my responses and action items based on 3 criteria: (1) urgency, (2) importance, (3) complexity. I just use my intuition and decide instinctively which emails will require me to spend more/less time, more/less focus, and assign more/less priority. For example: Maybe one email is urgent in time, like someone needs my feedback within the hour, but it is not critical for me, just for the person making the request. So then I consider the complexity of the request. If I can give the feedback easily, I'll meet their deadline and send my feedback. If I have my own, more important priorities, though, it's a tough choice and you have to find a balance that works for you. If that person's request is both urgent and important, I'll try my best to fulfill it on their timeline. But if my own priorities outrank those of the other person, I will send a quick note letting them know I won't be able to meet their deadline and if I can, I'll provide an adjusted timeline based on my schedule and priorities. I personally think it's important to manage people's expectations, so if I can communicate such information, like knowing I won't meet their deadline, I'll let them know as soon as possible. For me, it's much worse to leave someone hanging and not address the item at all than to miss a deadline but warn them it was going to happen.
Once I've set my priorities for the day (or for the week if it's a Monday), I get to work. I'm usually pretty awake and alert by 10 AM so I tackle the more urgent items first if they're also important and complex. Once I finish all urgent tasks, I tackle those that are important AND complex, then those that are just complex (again, I want to be alert for those), and then I leave important but neither complex nor urgent for the afternoon because my brain is less sharp but I already accomplished the critical stuff so I can take my time with the rest of the tasks in my day.
What's your best tip for saving/managing your time?
Some people really like the Pomodoro Technique, and software developers often use the Waterfall model or the Agile method, and all of them have their pros and cons. My best tip would be to just find what works best for you and then maintain your discipline to stick with it. I like to leave my late afternoons open because I've already accomplished my urgent, important, and complex tasks so I can think of the rest of the day as "scheduled" creativity time. I'm more relaxed and ideas can flow freely, even though I may be a little tired by then. I love using productivity apps. I haven't touched a paper agenda or planner in over a decade, because I like to capture everything on my phone or tablet and have it accessible from anywhere, anytime, via cloud storage. But some people work best with a paper agenda, and that's fine. Just explore different options, and once you find what works best for you, stick with it. If you're looking for a change, do NOT explore that change in your busiest season or when you have a bunch of critical items to deliver to a client. Pick an off-season period and do your homework, research different solutions, and use their free trials before you commit to buying the product or service. Most times, you can even contact the company and ask for a longer trial period if you need it — they want your business, so they'll do their best to work with you.
What does your brand represent/reflect? Who is your customer?
My brand represents freedom and it's for anyone wanting to look and feel their best, no matter their size. Right now, The Fatshionista happens to focus on female customers who identify with being fat, curvy, plus-sized — whatever term they prefer. #bodyacceptance is at the core of what we do, and if we get to play even a small role in helping others achieve that, then we've already won.
What is the best advice given to you?
Wow, I don't even know where to begin on what was the best advice I ever received. I mean, each situation had its own "best advice" and I don't think I was ever given a piece of advice that applied to all aspects of my life — except for one source: God's inspired Word, the Bible. And this book informs the decisions I take in ALL aspects of my life, be they personal or business. So if you're looking for some sound advice that has no expiration date and is 100% accurate 100% of the time, turn to the Scriptures.
What are some of the biggest challenges you've encountered as an entrepreneur?
I think I have yet to face truly "big" challenges when it comes to my entrepreneurship journey. One of the bigger personal challenges I've faced had to do with my health — I suffered two burnouts. Once during my undergraduate studies, and another sometime after launching my first business. Both stemmed from my own sort of Type-A personality and perfectionist attitude, and the later burnout impacted the business too since I was hospitalized then as well. While those two events were indeed significant challenges, they were not the biggest I'd ever faced. I had a rough childhood where I was victim to abuse, kidnapping, and attempted murder. Life just being what it was from such an early age could have led me to give up on my dreams fairly early. But I was and am still determined to work hard and try my best. And as one of my favorite poets, Maya Angelou, suggested, once I know better, I'll do better. So what I learn from each challenge I face just makes me stronger. I don't consider them as losses, but lessons. Hard ones, sure, but lessons, nonetheless. I learned a lot after the second burnout, like 'don't sweat the small stuff,' and learning from my mistakes showed me that I don't have to be a solopreneur; I don't have to be an island of one. So this time around, I've made sure to surround myself with a strong support system of mentors/advisors, professionals, and friends whom I can turn to for assistance before things get out of hand. My whole mindset has changed in terms of what I believed it meant to be an independent woman and what I viewed as important versus what I cherish now, such as my relationship with God and the people in my life that I care about most.
What advice would you give to someone who wants to start a business?
I used to think it was corny when people told me that 'if you love what you do and you do what you love, then you'll never work a day in your life.' Now, though, I think that's the ultimate 'why' all of us as humans should be pursuing! So my advice is to find your 'why' and see if that can be fulfilled with starting a business.
If you're doing it because you want to supplement the income from your existing day job without needing to leave the stability that comes with it — great. Start or take over a business that is in alignment with your goals and your 'why.'
If you're hungry for a challenge and want a business that will grow into a Fortune 500 company — that's great too. Start or take over a business that will allow you to achieve that if this is your goal and it aligns with your 'why.'
There are so many ways to become an entrepreneur — from developing a unique and innovative solution, or improving upon an existing one, to buying into a franchise or other existing business — it doesn't matter how you become an entrepreneur — just make sure it all aligns with your 'WHY.'
Do you want financial freedom? Maybe the answer isn't a business but a better job, which may mean better skills, which may then mean more education, etc. More time with your loved ones? Maybe starting something from scratch isn't the answer, because a startup is like another mouth to feed that also constantly needs attention for typically many years before you can send it off to run on its own and just collect the money so you can be free to do other things more important to you. Or maybe you're just that unique type of person who sees themselves as a serial entrepreneur, not necessarily tied to a particular idea but looking for the next innovative concept to grow into the "next big thing" — also great!
The world needs all those types, and that wasn't even an exhaustive list. So just define your 'why' and let every decision you take be a step that brings you closer to attaining your goals; and if those decisions take you onto the path of entrepreneurship, awesome. Just buckle up, my friend, 'cause it's gonna be one heck of a ride — don't forget to enjoy it! If you'd like to learn more about my own journey or connect with me directly, feel free to send me a message on LinkedIn.