Lemali Pathirana is the founder of Garden of Towers Canada and one of the winners of the ELLEvate Women Entrepreneurs Pre-Accelerator pitch competition led by YES Employment +Entrepreneurship. 
Please present yourself: name, professional title, and company name.
Lemali Pathirana, Founder / CEO – Garden of Towers Canada
Which city are you based in?
Gatineau

Congratulations on winning the 2021 ELLEvate Women Entrepreneurs Pre-Accelerator Pitch Competition. What does this award mean to you?
Winning the second runner-up place validated my project as a viable business venture for the greater good of the people of Quebec and the environment. As a businesswoman, I am grateful for the opportunity to showcase my skills to build trust, confidence and earn my place in the Quebec entrepreneur ecosystem.
What do you think sets the ELLEvate pre-accelerator apart from other programs available to entrepreneurs in Quebec?
As a new Canadian, I was not aware of business incubators until I came across the ELLEvate program through YES's business coach.
What was the highlight, for you, of the Pre-Accelerator Program?
I enjoyed and valued the whole program. However, fireside chats were the highlight for me. I like to learn from hands-on experiences, so that portion of the program resonated with my learning style. I felt I had growth spurts every Friday from learning to overcome my limitations through the experiences of women just like me. Additionally, it made me validate some of my strengths and build confidence in realizing my self-worth.
What was it like to be in a program that was focused on and consisted solely of women entrepreneurs?
Having schooled in girls' schools most of my life, I was very comfortable in the women-only setting. I neither feel comfortable nor uncomfortable in the presence of men. More often than not, professional women feel intimidated by men. I am glad I have one less problem to tackle. 
Tell us about your company:
Garden of Towers Canada is the very first aeroponics farm in Quebec. Aeroponics is a technology where you can grow plants suspended in the air. Due to the high oxygenation of the root system and higher nutrient absorption, plants can grow three times faster than in a soil-based farm. Tower farms can grow up to 250,000 plants in an acre of land with just 2% of the water that is required in a traditional farm. We currently operate out of our home with five, seven pot towers. We can grow 150 different green vegetables, herbs, and flowers.
We grow an interesting range such as; Kale, Chard, Pak Choi, Arugula, Watercress, Mint, Amaranth, Spinach, Beet tops, and Yukina Tatsoi.
What makes your business concept unique?
The technology itself is very innovative. We use absolutely no harmful chemicals which compel us to claim are better than Organic. We want to create a unique experience for our customers. That is, to deliver products within hours of harvest ensuring that they are at peak freshness, brimming with nutrients.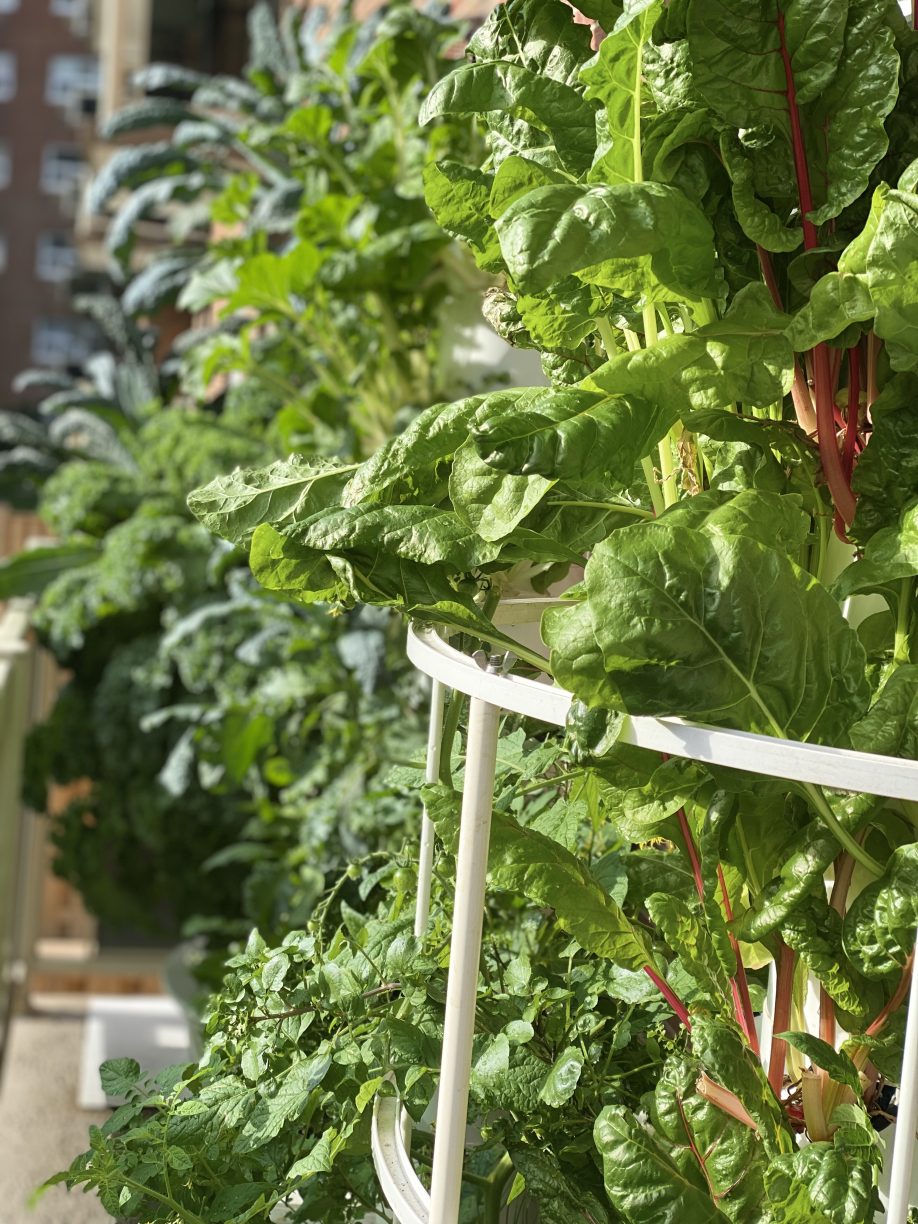 How big is your company?
We are in the idea validation stage of our business. Our focus is to establish a solid foundation in terms of operations, customer experience, and stakeholder relations. That includes understanding customer requirements and adjusting ourselves to adopt best practices, further innovate our product and service offerings. Aeroponics is a versatile technology that does not require a big team or a lot of specialized talent. Right now, it is just me and my advisors working on the project.
Have there been any business support tools and resources you've leaned on to navigate through the covid-19 pandemic?
I started the farm during the pandemic. Much like the rest of the world, I had to get used to meeting online. Thus far I am enjoying the opportunities the pandemic has posed.
What inspires and motivates you to work on your concept every day? 
What drives me is my life's purpose. I help people enhance their quality of life through sharing knowledge, skills, tools, and resources. Growing chemical-free produce is an extension of this process by way of facilitating better quality eating in our communities.
What tools are essential for your professional life (app, software)?
I am not a big fan of apps. I use notes, simple numbers calendar for my keep myself organized. I love Canva and Grammarly because they help me create professional-grade material without spending a lot of resources.
What does your workspace look like?
I operate from my home. When I want to strategize, I go for a walk in the woods. The best ideas come in the wild for farmers. Our dining room is my office.
How do you organize your days in order to optimize your workflow?
I am a mom of three busy children so my days are pretty packed. As a working mom, I have a toolbox that I have developed to help me get through my days without overwhelming. I put a lot of emphasis on connecting with my children and family's wellness. My belief is well-being is the key factor that can optimize anyone's work life. I do not try to multitask because it is not optimal for my productivity. I start my day with a dose of yoga and breathing, then we all have our smoothies. After the children have left for school, I usually study material in wellness and personal development. Afterward, I respond to emails, schedule meetings, work through my "get done" lists, and work on the farm. I sneak in walks in the woods and exercise every day. I like advanced decision-making and a tight focus to make sure the work is done.
What's your best tip for saving/managing your time?
You can never manage or save time because time is just an abstract concept. You can only manage your thoughts and actions. We can go on an entire vacation or have very destructive self-talk in our minds. I prefer to manage who and what enters my mind and shut down everything except what matters most. That helps me accomplish more in a day than watching the clock.
What does your brand represent/reflect? Who is your customer?
Our brand represents unmatched quality, care, and service. We represent a lifestyle rather than a generic product.
Our profile is 30-65-year-old affluent professionals who are looking to take their wellness to the next level with quality local produce. 

What is the best advice given to you?
Protect your mindset and trust your instincts.
What are some of the biggest challenges you've encountered as an entrepreneur?
Self-doubt used to be an enemy for me. I was blocking my own way! It is sometimes hard to gauge if you are doing enough, too much, or is it time to give up. I learned that there were no right or wrong answers. Every entrepreneur has their timeline and their own definitions of success.
What advice would you give to someone who wants to start a business?
Earl Nightingale said, "Success is the progressive realization of a worthy ideal". Make a decision and take small steps to move the needle towards the goal and take those baby steps consistently. You might fail some days, then get back up and do another thing. Repeat! Celebrate! Enjoy the journey, not the destination. Until you decide to give up, you are successful!