Your wedding night is one of the most precious memories that will last a lifetime. It is an opportunity to woo your partner and create sensual magic to sweep him off his feet. All women want to make their wedding nights and the nights that follow, special and romantic. Therefore, they turn towards elaborate styles and trends in bridal lingerie. 
In this article, we have put together a delightful roundup of glamorous bridal lingerie trends. They will offer you an abundance of inspiration and help you choose the right pick for your wedding night.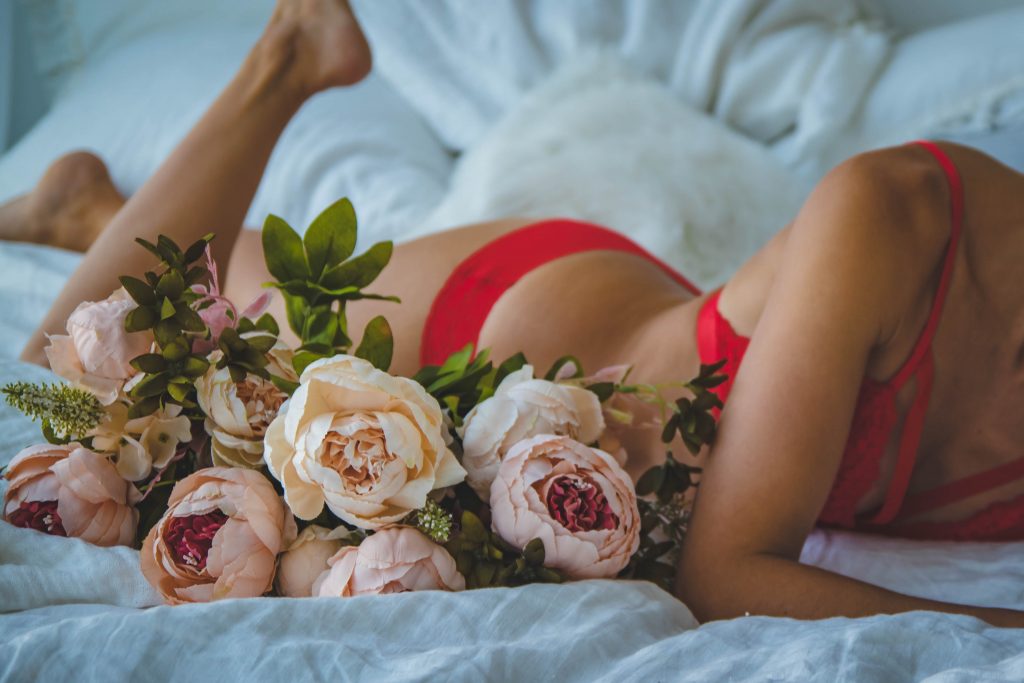 Photo by Valeria Boltneva from Pexels
Let's get started, shall we?
Laced lingerie 
Laced lingerie has always been a timeless trend to incorporate into your bridal trousseau. You can pick out angelic white nightwear with lacy cross-overs and seductive cutouts. Or you can go bolder in black and feisty cutouts. 
Lace is an insanely sexy fabric for lingerie, and you can experiment with a wide array of cutouts and colors. Red sequins on lace are another incredible style to explore in bridal nightwear. 
Silk
The ultimate fabric that strikes all the right chords of sensuality is silk. It is an excellent choice for your bridal nightwear. You can explore a multitude of trends and designs in this fabric. For instance, you can pick out flimsy nightgowns with sheer mesh inlays. 
You can also pick out satin silk camisoles with delicate lace patterns, or floor-grazing silk nightgowns with sexy lingerie. There is an endless variety to explore in silk nightwear, and we urge you to explore nude and pastel colors. 
Babydolls
Sexy, feminine, and romantic-babydolls are an exciting mixture of sensuality and femininity. They exude an endlessly romantic vibe. You can explore multiple fabrics and styles in this trend. For instance, you can pick out sleeveless designs with heavily embroidered bodices. Or you can pick out exquisite silk camisoles with spaghetti straps.
Babydolls are an excellent choice for women who don't like over-the-top nightwear and want something simple and romantic. 
Bodysuits
Bodysuits are a lot like swimsuits, except they are made with flimsier and lighter fabrics. They typically consist of lace, mesh and elaborately embroidered patterns. They are an excellent choice for athletic body types because of their curve-hugging fit. 
They accentuate the curves and highlight the waist with their slim-fit designs. If you want to pronounce your beauty assets and flaunt a bold radiance, a white lace bodysuit is a perfect pick. You can flaunt it with a delicate silk nightgown.
Corsets
Give your wedding night a Victorian-inspired dose of sexiness with a beautifully embellished corset. Corset lingerie has been all the rage since medieval times, and even today, this timeless trend never ceases to impress. Corset-style lingerie comes in a wide variety of styles and designs, and you can choose between lace designs and embroideries. 
Black corset lingerie is the ultimate recipe for boldness, but you can also pick out wine red, burgundy, or indigo. Corsets work wonders at accentuating the curves, slimming down the waist, and highlighting one's beauty assets. They are a great choice for apple and pear-shaped body types. 
Strapless Bralettes
This is another simple yet insanely sexy trend to explore. Strapless bras are glamorous and romantic, and you can pair them with high-waist bottoms. You can pick out bras with elaborate lacework and embroideries, or a sassy mesh inlay. You can also explore strapless corset-like bras and wear them with sleek thongs. These are an excellent pick for athletic body types, while apple-shaped women can sport them with high-waist bottoms. 
Animal Prints
Animal print in nightwears is another fabulous trend to explore, such as leopard prints, snakeskin, and crocodile accents. These classics can be sported in bodysuits, lace-up corsets, and much more. They create seductive feel without the need for any embellishments. A woman can never go wrong with a sultry and sexy animal print! 
Floral Embellishments
The bridal lingerie radar for 2020 is abuzz with delicate floral embroideries and embellishments. These include applique, 3D floral motifs, vibrant floral inlays, and colorful floral patterns. You can explore a delightful variety in this trend. If you prefer something sweet and romantic as opposed to making a bold statement, this could be a great choice. 
Conclusion:
Regardless of which trend you choose to flaunt, it is important to feel confident and comfortable in your skin. If a particular lingerie style makes you feel overwhelmed and not yourself, it is definitely the wrong choice for you. We strongly urge you to explore various styles and trends and broaden your horizons. Visualize your wedding night and picture yourself standing in front of your spouse. The vision that you see should guide your buying decisions.
Photo by Neemias Seara from Pexels