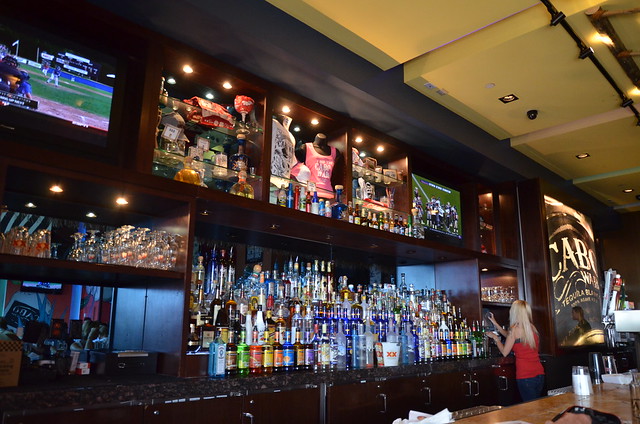 "Las Vegas Bar" by Michael Kappel is licensed under CC BY-NC 2.0 
It's the perfect storm – a night of UFC action, some tasty craft beer and a little bit of action on the bouts. 
Mix in the Las Vegas strip and it's a slice of heaven right here on earth.
UFC 254 is coming up later this month. But while the fights won't be live in Vegas, if it happens that you're going to be taking a Vegas vacation as the bouts unfold on pay-per-view from Fight Island in Abu Dhabi, you'll want to be certain that you're getting a ringside seat at some prime location to enable viewing of all the action inside the octagon.
It's a night of fighting that offers plenty of promise and is highlighted by the return to the cage of UFC world lightweight champion Khabib Nurmagomedov for the first time in more than a year, as he puts his title and perfect 28-0 record on the line against interim world lightweight champ Justin Gaethje (22-2). 
The belts will be unified, and since you'll already be in Vegas, getting a wager down on your pick to win the bout won't be an issue. As for finding a place to watch the festivities unfold, and being able to enjoy some tasty craft beers at a quality Las Vegas microbrewery, we're here to help you fill out your order on both counts. 
These are some of the best hot spots in Vegas to sample craft beer and savor all the UFC 254 action as you cash in on your bets.
Blondies Sports Bar
Located in the Miracle Mile Shops at Planet Hollywood, Blondies delivers everything the craft beer and UFC enthusiast desires. There are 60 television screens, but what there isn't is a bad seat in the house. Choose your favorite spot online while making your reservation at Blondies. There is a vast array of table styles and seating configurations. These include four draft tables where customers are allowed to pour their own beer from a tap. 
Customers can reserve the specific table they desire right on the Blondies Sports Bar web page. Their pricing includes a $40 all you can drink domestic beer package. You'll pay $60 for a reserved table but that includes the all you can drink domestic beer package.
Cabo Wabo Cantina
The Cabo Wabo Cantina is designated as UFC friendly. During UFC cards, the indoor section of the Cantina is reserved exclusively for MMA fans. Those who aren't interested in taking in the bouts are seated on the Cantina's outside patio that overlooks the Las Vegas strip from its locale inside the Miracle Mile Shops at Planet Hollywood, enjoying a view of the Bellagio Fountain and the Eiffel Tower from the Paris Hotel. 
As well as craft beer, it's recommended that you give the Cantina's menu of margaritas a try. They are some of the sweetest margaritas you'll ever sample. But get there early. For the majority of patrons, the Cabo Wabo Cantina is first-come, first-serve. They only take reservations for groups of 10 or more.
Originally launched by legendary rock and roller Sammy Hagar, the Cabo Wabo Cantina is known for its Mexican cuisine.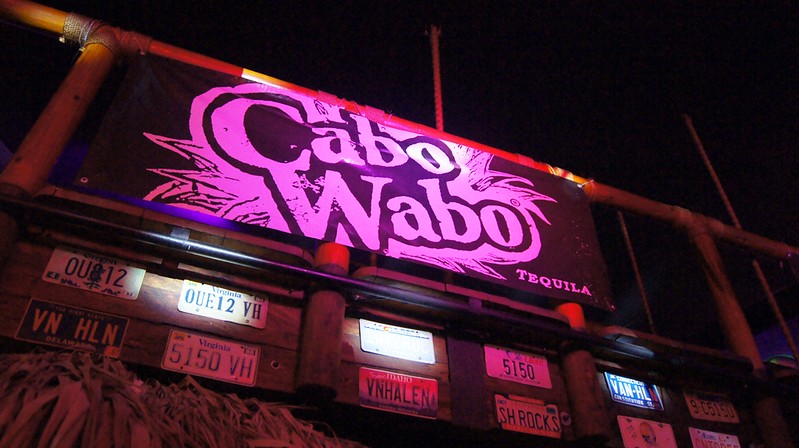 "At Lands End" by hmerinomx is licensed under CC BY-NC-SA 2.0 
Scooters Pub
Scooters was voted the best sports bar in Las Vegas, so you know on fight night that they'll have their game faces on. Their sports viewing parties are the stuff of legacy. In fact, their UFC viewing parties are so popular that it's recommended you show up hours before the first bout in order to assure yourself of getting a viewing spot. You can watch the fights on their 100-inch giant screen or on any of the other 19 TVs with screens that are between 42-47 inches.
Featuring 15 different varieties of draft beer and 22 brands of bottled beer, you won't be disappointed in their selection of brews. 
Bad Beat Brewery
Taking the short trip to Henderson, Nev. is well worth it to check out the poker-themed Bad Beat Brewery. 
The beauty of this place is that it was created by UFC. Brewmaster Nathan Hall originally began brewing beers in his garage, testing them out on his buddies when they gathered for UFC parties.