MONTRÉAL EN LUMIÈRE, in partnership with Scotiabank, is pleased to unveil its fine dining program, presented by Scotia Wealth Management. Putting Québec's culinary talent in the spotlight has always been dear to the festival, which is thrilled to be able to hold its gourmet food component in restaurants and hotels across the city. From February 17 to 27, Montréal will once again become the epicenter of the culinary arts thanks to an array of delicious activities! Chefs and artisans alike are truly eager to reconnect with food lovers and thrill their taste buds with their creations, which will be crafted around the theme Savouring our northern heritage.
On the MONTRÉAL EN LUMIÈRE menu this year:
And since the theme of 2022 is all about our northern heritage, giving Indigenous gastronomy a place of honour was an absolute must. It will be our great pleasure to welcome Lysanne O'Bomsawin, Rich Francis, Sheila Flaherty, Norma Condo, Joseph Shawana, Sean Sherman, Maxime Lizotte and Shawn Adler as well as the Nk'Mip winery. Much to our delight, Marie-Ève Bordeleau, Commissioner of Indigenous Relations for the Ville de Montréal, will be the spokesperson for this component of the festival.
AIR FRANCE FINEST TABLES
A vertiable hub for discovering, sharing and exchanging tips and information, the kitchen is where we pass on our heritage, initiate people to traditions and open up new culinary horizons. That spirit is the very spark of the Air France Finest Tables, which pair chefs, winemakers and producers from around the globe with local chefs to create a menu that reflects each of their personalities. Let us note that this year, the festival will welcome international chefs Rémy Havetz, Charles Coulombeau, Pam Yung, Bo Bech and Michelin-star chefs, Julien Royer and Andy Doubrava, as well as Toronto chef Nick Liu and Québec chefs, Stéphane Modat, Martin Gagné and Dominic Labelle. Winemakers Harald Thiel (Hidden Bench), Mark Haisma, Fabienne and Gilles Robin will also be part of this outstanding culinary crew.
More than 30 Montréal restaurants will be joining this gourmet event, including:
AU PETIT EXTRA | AUBERGE SAINT-GABRIEL | BAR GEORGE
BEAU MONT | BISTRO LUSTUCRU | BIVOUAC LOUNGE BORÉAL
CHEZ ALEXANDRE ET FILS | CHEZ SOPHIE | CHEZ VICTOIRE
ÉTAT-MAJOR | H3 (HUMANITI) | HELENA
IKANOS | JÉRÔME FERRER – EUROPEA | JOSÉPHINE | KAMÙY
KITCHEN GALERIE | LA CHRONIQUE | LA SOBREMESA
LABO CULINAIRE (SAT) | LE MOUSSO | LE VIRUNGA
MAISON BOULUD | MARCUS | MASTARD
MONARQUE | MON LAPIN | OKEYA | OSCO!
PORTUS 360 | RENOIR | RESTAURANT DE L'ITHQ
RESTAURANT LLOYD | RESTAURANT PASTEL | ROSÉLYS
COUETTE & GASTRONOMIE
On the heels of its huge success last year, the Couette & Gastronomie packages will be back once again! The concept is as comforting as it is delicious: thanks to partnerships between hotels and restaurants, festivalogers can treat themselves to a unique gourmet experience in the comfort of their hotel room or from the hotel restaurant, should they so wish. Participating this year are the:
AUBERGE DU VIEUX-PORT X GASPAR | BOXOTEL | DOUBLE TREE BY HILTON
HÔTEL 10 | HÔTEL DELTA
HÔTEL MARRIOTT CHÂTEAU CHAMPLAIN
HÔTEL MONVILLE | HÔTEL NELLIGAN | HÔTEL PLACE D'ARMES
HÔTEL ZERO1 | HÔTEL WILLIAM GRAY | LE SAINT SULPICE
The festival is proud to introduce another new feature this year: the Forfait Expérience MONTRÉAL EN LUMIÈRE. It includes two room nights (Double Tree by Hilton or Hôtel Monville) gourmet meals and tickets to a Pierre Lapointe's concert which will take place on February 18 at 8 p.m. at the Théâtre Maisonneuve. Being in Montréal has never been more exciting!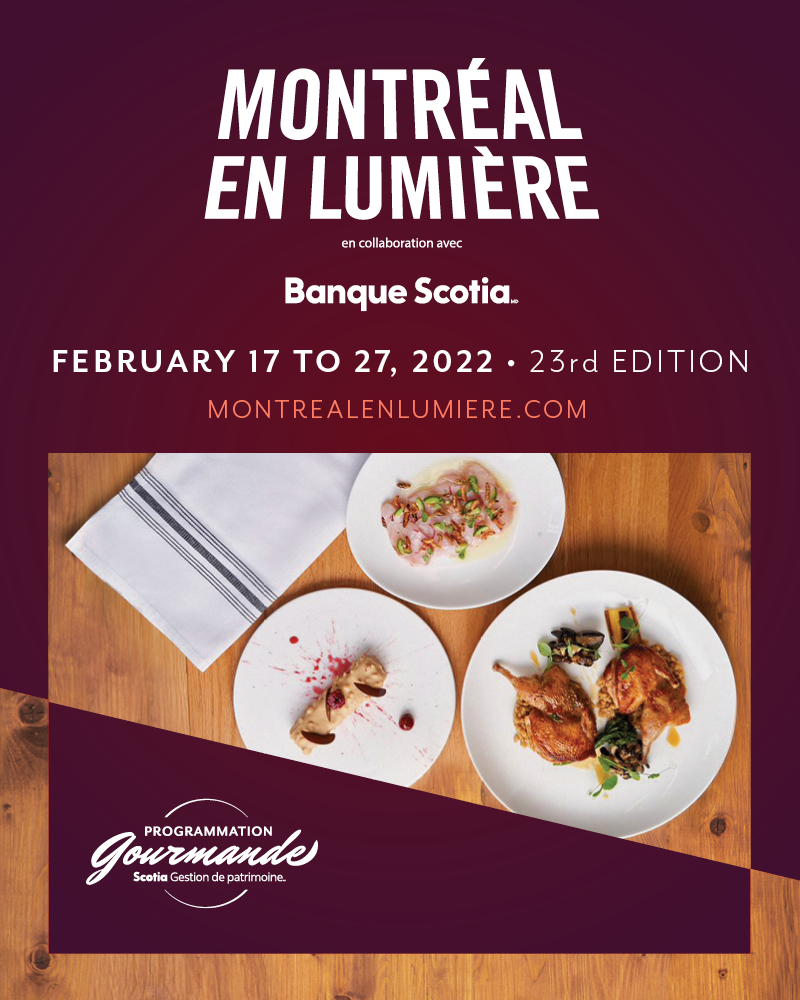 CIRCUITS GOURMANDS TASTET
The Circuits gourmands Tastet invite you to explore Montréal and its restaurants according to themes chosen by this website and ultimate foodie referrence. This year, festivalgoers can sink their teeth into delectable itineraries based on France (presented by Air France), Italy, real wine, sake, Japan and the Middle East. So many taste happenings in so many different flavours!
THE QUARTIER GOURMAND
The Quartier gourmand in collaboration with Place des Arts will be back again to sate epicureans with meetings, workshops, demonstrations, and oher delicious activities. Details will be unveiled in February.
MORE NEW FEATURES
Keep checking back, because the festival has even more surprises in store, including the activity From film to table with Studio Ghibli: a unique collaboration between MONTRÉAL EN LUMIÈRE, the Japanese festival Yatai MTL and the Cinéma du Parc. The concept? Throughout the festival, the movie theatre will show six Studio Ghibli films and some 10 Japanese restaurants in Montréal will add an iconic meal to their menu inspired by one of these feature films.
NEW PARTNER
The festival team is delighted to welcome Scotiabank as its new partner. Scotiabank is now the exclusive sponsor of its gourmet food component and will be celebrating it by showcasing our superb local cuisines.
"Scotiabank places arts and culture at the heart of its community engagement in Quebec, as we know that the artistic and business communities uplift and enrich each other. Our partnership with the MONTRÉAL EN LUMIÈRE allows us to support an event that greatly contributes to the cultural and economic vitality of Montreal during the winter. We are also proud to be associated with their gastronomic programming which features a diverse range of chefs from various cultures," highlighted Geneviève Brouillard, Senior Vice President for Québec and Eastern Ontario.
"MONTRÉAL EN LUMIÈRE, it's a variety of musical performances, a gastronomic component that will once again make your mouth water, and a renewed outdoor site where skating will be in the spotlight."
– Jacques Primeau, General Manager
Thank you!
The 2022 edition of MONTRÉAL EN LUMIÈRE would not be possible without the support of its esteemed partners and sponsors. Special thanks to this year's presenter, Scotiabank, for helping to highlight the invaluable work of Montréal's gastronomic institutions. Thanks also to the Casino de Montréal, Société des alcools du Québec, Air France and AHGM, as well as our media partners, Radio-Canada, La Presse and Tastet. And last but not least, a huge thank you to the Government of Canada: Canada Economic Development, Canadian Heritage, Gouvernement du Québec: Ministère du Tourisme, Secrétariat à la région métropolitaine and SODEC, the Ville de Montréal and Tourisme Montréal for their continued trust and support.
For full details of this year's line-up of gastronomic events,
and to book your spots, head to:
montrealenlumiere.com