With over 35 years of experience, La Milanaise has become a leader in the processing of organic cereal grains in Canada. Their reputation is based on superior quality organic products and proud to encourage local producers, their flours are 100% Canadian.
Interview with Alexandrine Paradis, Marketing & Events Coordinator
Visit La Milanaise at 821
Can you tell us about your background and your company?
La Milanaise was founded in 1982 in Milan, Estrie, Québec. The initial goal of this company was to become self-sufficient. La Milanaise is one of the first companies in Quebec to promote Organic Agriculture, despite all the agricultural recommendations, they go through with this project. 40 years later, La Milanaise is still growing and has the same values as when it was first founded. Respecting the land and the environment is at the core of all our decisions. La Milanaise even helped to establish the Ecocert certification back in the day. 
I've been working for La Milanaise for more than a year now. I am in charge of Marketing, Communications, PR, and Events. I also do sales from time to time and I represent the company in various Trade Show and events.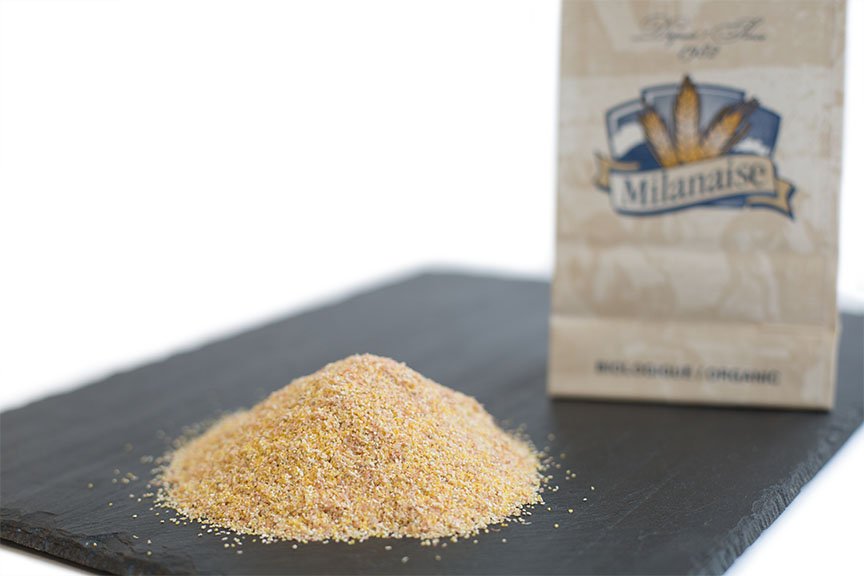 How did your company and industry respond to the covid-19? 
Covid-19 did not touch us so much. We did not have any major problems. The only thing is that we were milling more flour than before and with the popularity of home bakers, we ended up selling more flour!
Right now, flour is the new toilet paper (remember during the first lockdown, everyone was packing up on toilet paper? Well it is the same right now with flour!). People go to Costco or their supermarket and buy flour in bulk (almost)… They see what is happening in the news, with Ukraine and Russia, and think 'I must buy lots of wheat products before they run out!', but our flours are milled from organic Canadian cereals so the war does not touch us directly, as our supplies come from Canada.
We keep producing but people buy so much that they think that organic flour is becoming 'rare' but it is just the law of supply and demand coming into the account.
The more we produce, the more people want flour and the faster it sells.
How has your company and industry changed, because of the pandemic? Any new opportunities? any new way to do business?
First, people bake more at home.
Second, with all the bakeries and restaurants that closed in the last year, we lost clients and gained new ones. Meeting bakers was hard during the pandemic. We could not go and meet with our clients, which made social interactions and contact with everyone pretty difficult. Yes, you can call them, but when you need suggestions or want to go in the kitchen with them, you weren't able to during Covid. This is slowly getting back to normal, our Technical Baker can now travel and visit our various clients in the USA and in Canada.
Business is now a lot online, which can be hard sometimes. All the trade shows were done online in the past months, but since the beginning of 2022, we are slowly getting back to normal and going back to in-person events which are great.
What can we expect from your company at the SIAL? (new product, services, more)
We do not have new products to present. We just want to keep selling a product that is stable and procures great products for bakers.
The key to good business in the flour industry is the stability of the product and ours is renowned to be one of the most stable products on the market, and it is organic!
Those are 2 positive things going on for us!
​​lamilanaise.com |