So, you've decided to make your own custom socks. Great! You have come to the right place. Custom woven socks are one essential dressing item that gives you a unique look. This article will show you how to go about making your first pair of woven custom socks. 
Making a pair of designed custom socks is a very easy task. You can make custom socks with logo at home with a few tools and some elbow grease. All you will need to do is ensure you learn the basics, how to create the pattern, and make the socks. Before making your design or beginning from scratch, you must understand the fundamentals.
You'll also learn how to create your own pattern for use in making a pair of woven custom socks. The last part is getting the supplies and learning how to make a sock yourself!
A step-by-step guide on making a pair of custom woven socks
The steps to making custom socks include:
Technical drawing of the socks design. 
Before setting out to make custom-woven socks, you need to have a design in mind. The design will help guide you throughout the process of making your custom-woven socks.
Yarn preparation is also necessary. 
You need to know the color and number of yarns you need to make custom-woven socks. The pattern will determine how many yarns you will need to make your custom woven socks.
Machine Knitting involves loading the machine with yarns you have prepared. This helps to make your custom socks to your preferred design.
Toe Sewing is important because most socks machines do not close up the toes area of your custom-woven socks. You will use a separate machine to carry this out. The toe is a key part of the socks, so you will have to be careful when doing this.
Boarding will help apply heat and temperature to the sock to make it soft and clean. This will make the socks more attractive.
With this method, you can easily design your custom-woven socks. 
Why Wear Woven Socks?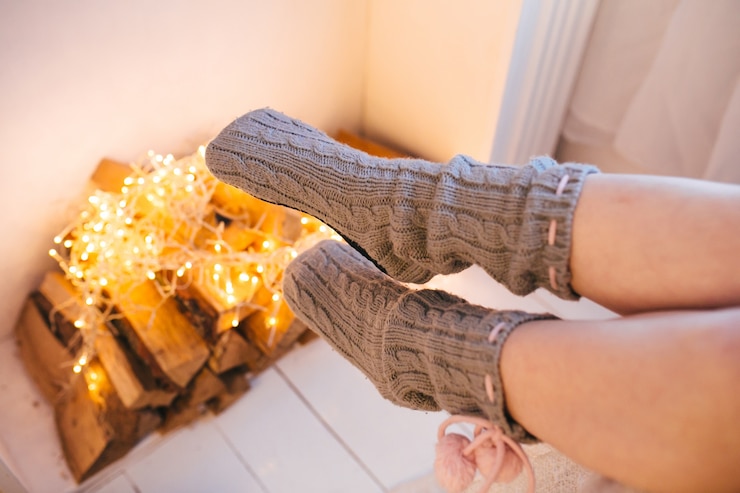 Custom woven socks last longer than other socks. 
They are very durable. The images and designs on the socks last for a long period. Life span is important when choosing socks because it helps to save money.
Woven socks design makes them look more luxurious.  
The thread used in making woven socks gives them a very good consistency and makes them look beautiful. This will give you a luxurious look when you were them.
The images on the socks distort less. 
It is easy for one to recognize the image drawn on custom woven socks when worn because it is done carefully and with the best material. This means that your holiday image crafted on the socks will last longer.
Woven vs Sublimation
Woven includes using yarn to craft unique patterns. Custom sublimation socks patterns involve the use of dye or ink with heat to create beautiful patterns on fabrics. It is used mostly on jerseys. A flat pattern drawn on paper is usually transferred to a plain sock using ink. This is always done on a sock that doesn't stretch; hence, you need to look for your size when picking a sublimed sock. 
| | |
| --- | --- |
| Woven | Sublimation |
| The text is very clear | The text is less clear |
| Uses yarns | Uses inks |
| Doesn't easily distort  | Easily distort |
The decision to go with custom woven socks or custom sublimation socks depends on what you are looking out for. If you need clear text, woven is the best choice for you.  If you need good socks that will not easily distort and last for a long period, woven socks are the best choice. If you have abundant ink, sublimation is for you but if you prefer buying yarns, you can go for woven custom socks.
The Realization of Individual Socks Design
There is always that unique socks design in your mind. This design can become a reality by designing your socks today.
Whatever pattern of socks you want to have, it is possible to design the pattern of your choice. When making your socks the design, colors, images, text, and pattern show correspond and match with each other. 
Understanding color schemes and how to combine colors is very vital when making woven socks. You can save a lot of money when you make your own woven socks. During the holidays, consider creating custom socks for yourself and your family to save money.
Wrapping Up
Custom woven socks have a way of making you feel refreshed and unique. The way you dress is the way you will be addressed. Custom woven socks say a lot about your personality before you say anything. Remember to buy custom socks as they last longer and are very comfortable.